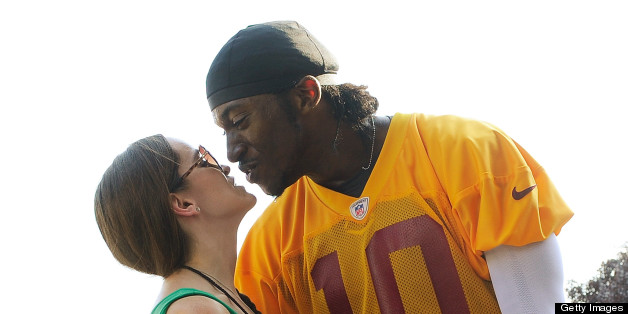 Washington Redskins quarterback Robert Griffin III's recent purchase of a $2.5 million house on 3 acres in Northern Virginia caught the attention of conservative radio and TV host Glenn Beck, who said he thinks the house "must suck" or be built "on a toxic waste dump" since it wasn't more expensive.
Beck's thoughts on the topic of RGIII's real estate acquisitions were captured by the D.C. Sports Bog -- read Dan Steinberg's account of the whole thing here, or watch Beck speaking the words himself in the video below:
Meanwhile, here are a few choice snippets, via the D.C. Sports Bog:
You're a quarterback. Really? You're gonna have five bedrooms and four bathrooms? Think of that, four bathrooms. Nine thousand square feet, four bathrooms and five bedrooms. That means at least two [bedrooms] don't have their own bathroom….
I mean, three acres in Virginia. Remember, Virginia is not cheap. It's never been hit by the housing crisis because of the government. So he's got this house? It must suck.
I'm looking at the pictures of this — we have to post this — I'm looking at the pictures of this house. It's got a movie theater in it and everything else. $2.5 million, what is it, on a toxic waste dump? Seriously?
Here are the Zillow.com listings photos -- tell us in the comments what you think of RGIII's Beck-maligned new house (and its bathrooms).
PHOTO GALLERY
RG3's New Home
Here are some costly vacation homes within driving distance of the District -- we'd sure love to hear Beck's take on any of these!
PHOTO GALLERY
Vacation Homes
Full circle, internet-style: The Sports Bog's story about Beck's rant about RGIII's house caused a number of commenters to go off on their own rants, either about the Sports Bog's story, or about Beck, or about the house. Vitriol-lovers, read the comments here.