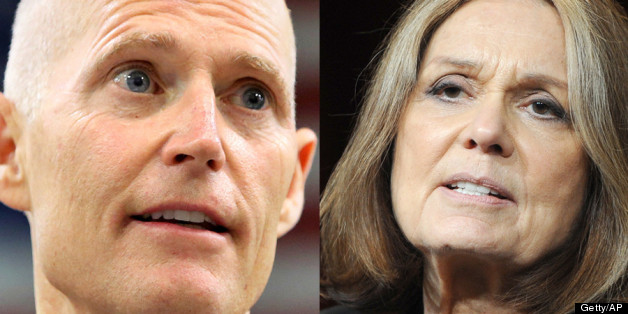 As Rick Scott races to sign bills into law -- he passed three dozen in one day last week -- feminists from all over the country have written the Florida governor, urging him to veto one bill in particular.
Ms. Magazine founder Gloria Steinem is among the 13 women asking Scott to veto HB 655, a bill that overrides any earned sick leave ordinances passed on the local level.
Steinem and other signees -- including Ethel Kennedy, Florida gubernatorial candidate Nan Rich, and Pat Schroeder -- believe the bill unfairly targets female employees.
In their letter, posted on Orlando Weekly, the women write:
The consequences of the failure to provide Earned Sick Time do not fall equally on those in the workforce. This problem primarily impacts working women. It is more often women who have the responsibility for caring for a sick child or other family member. And women should not be forced to go without pay – or be forced to surrender their job – simply because they need to leave work to care for a sick child or family member.

Of women who were surveyed, 86% support Earned Sick Time (73% strongly support). Denying local communities of the control to deal with this issue, while the legislature fails to enact a statewide policy is the wrong direction for this state and we urge you to veto HB 655.
The bill's potential impact on working women has incited more than just feminist leaders. Tuesday, Florida moms plan to deliver over 11,000 signed petitions stacked high in strollers to Scott's office in Tallahassee.
"No parent should ever have to make the impossible choice between staying home with a sick child or a day's pay," Kristin Rowe-Finkbeiner, executive director for MomsRising.org, said in a release. "Earned sick days are good for families, good for public health and even good for business. We're calling on Gov. Scott to do the right thing by Florida moms and dads and veto this bill."
Supporters of the bill, which also preempted any local ordinances on living wage in earlier versions, believe it promotes stability in Florida's business environment.
"Businesses … need to know they have consistency and stability in the environment in order to drive economic growth," said Rep. Jason Brodeur, R-Sanford. "What we can't have is a patchwork of ordinances all over the state."
Sponsors of both the House and Senate version of the bill reportedly worked with such seemingly family-centric companies as Walt Disney and Darden Restaurants (Olive Garden, Red Lobster, Longhorn Steakhouse) to draft the anti-worker bill, as reported by the Orlando Sentinel.
CORRECTION: An earlier version of this post incorrectly stated that HB 655 included living wage and domestic partnership benefits but an April amendment limited the bill to only affect earned sick leave.

BEFORE YOU GO
PHOTO GALLERY
Rick Scott Controversies