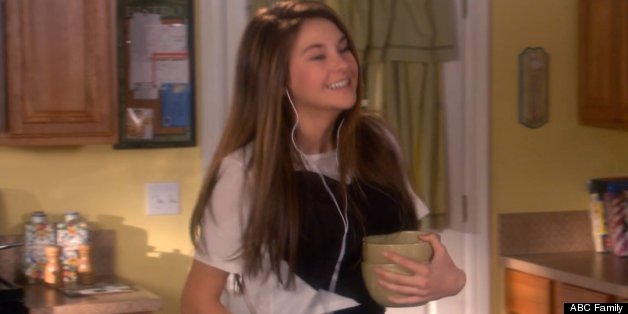 With the "Secret Life" finale upon us, we thought it'd be a good time to look back on the hit ABC Family show that gave us five seasons of awful lessons about sex, embarrassing dancing and severely distorted depictions of teen parenting.
From Grace (Megan Park) thinking that losing her virginity killed her father to a hooker (Jennifer Coolidge) hired by a teen with Down syndrome becoming the wife of the Sausage King, take a look at eight moments from the "Secret Life of the American Teenager" that still have us cringing and eye rolling.
The time Amy Juergens (Shailene Woodley) did the most idiotic, rhythmless dance of all time.
The time Ruthie (MacKenzie Rosman) and Lucy Camden (Beverley Mitchell) judged each other.
The time Bristol Palin guest starred and said, "And I'm Yo-Yo Ma."
The time uber-Christian Grace thought having sex with Jack (Greg Finley) killed her uber-Christian father, who was on his way to Africa. (We later learn that he was having an affair with a woman in Zimbabwe, with whom he fathered a child.)
The time Tom (Luke Zimmerman), Grace's adoptive brother with Down syndrome, hired a hooker named Betty (Jennifer Coolidge) and invited her over to his family's house. Eventually, she became the wife of the Sausage King (Steve Schirripa) ... and then his ex-wife.
The time Mayim Bialik played a guidance counselor and started the "Hava Nagila" during a mother-daughter dance (Molly Ringwald included).
The time George Juergens (Mark Derwin) revealed how not to approach your child about his/her sexuality.
The theme song, which states, "Birds can do it. Bees can do it. Let's stop talking. Let's get to it."
Tell us: What do you think the most ridiculous moment was in "The Secret Life of the American Teenager's" five-season run
The "Secret Life" finale airs Monday, June 3 at 8 p.m. ET on ABC Family.
PHOTO GALLERY
Summer TV Guide
BEFORE YOU GO