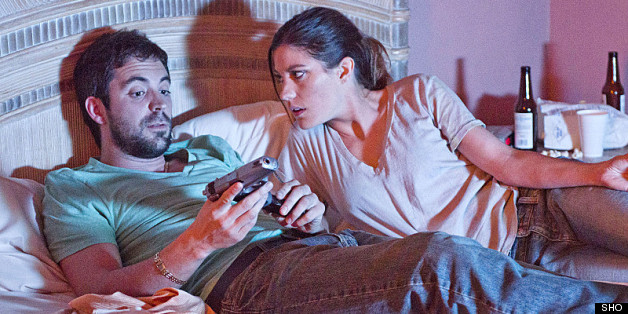 Showtime has released a new batch of episodic photos from the upcoming eighth and final season of "Dexter," and they provide a glimpse of where the action picks up after last season's shocking finale.
The new "Dexter" photos, which cover the first, second and fourth episodes of the new season, seem to depict Captain LaGuerta's funeral, or some type of memorial service. Her ex-husband, Sgt. Batista gives a speech, while Dexter, Masuka and Quinn look at a monument being dedicated in her honor.
Everyone is grieving but Deb, who's drowning her guilt by hanging out with her new man, a shady-looking dude played by "Entourage" veteran Rhys Coiro. He's holding a gun and there are several empty beers by Deb's bedside.
Other highlights from the photo set include Dexter pinning Charlotte Rampling's new "psychopath whisperer" character up against a wall, Dexter with a new victim on his table and Deb on a stakeout with Sean Patrick Flannery, who plays a former cop and private investigator named Jacob Elway. Who are they investigating? We'll have to wait to find out.
Check out the photos in the slideshow below:
PHOTO GALLERY
'Dexter' Season 8 Photos
"Dexter" Season 8 premieres Sunday, June 30 at 9 p.m. ET on Showtime.
BEFORE YOU GO