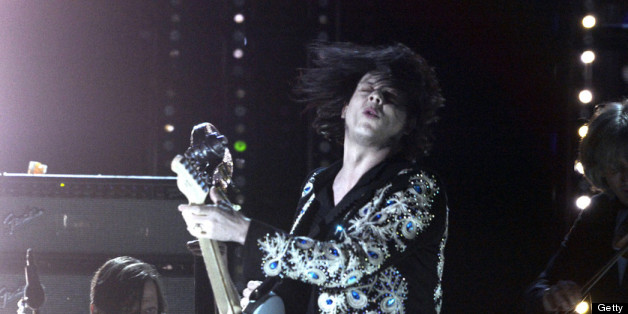 Jack White: he sings, plays guitar, and now, saves historic landmarks. The Detroit artist was revealed as the anonymous donor who donated $142,000 to save the city's Masonic Temple, the largest of its kind in the world.
The theater owed the amount in unpaid back taxes to Detroit and was at risk of going into foreclosure.
White, who has played at the Masonic in the past, has a special connection to the venue, where his mother worked as an usher in his youth. Now, one of its theaters will even bear his name. Detroit Masonic Temple Association President Roger Sobran announced the Cathedral Theater will be renamed the Jack White Theater.
"Jack's donation could not have come at a better time and we are eternally grateful to him for it," Sobran said in a statement. "Jack's magnanimous generosity and unflinching loyalty to this historic building and his Detroit roots is appreciated beyond words."
With a spot on the National Historic Register of Historic Places, Detroit's Masonic Temple is recognized as the largest of its kind on Earth, according to the city's historical museum. The soaring, rambling Gothic-inspired complex, designed by architect George Mason and dedicated in 1927, stretches an entire block of Temple Street north of downtown. The Historic Detroit blog says 3.85 million bricks were used to build the structure, home to massive theaters, soaring ballrooms, offices, bowling lanes and a barber shop.
In recent years, the Masonic Temple has struggled to afford its utility bills, although management had denied rumors of financial problems and declared the building not for sale.
On April 25, Wayne County briefly took possession of the Masonic for unpaid taxes, sparking speculation that the historic temple might join thousands of Detroit homes on the auction block. Temple owners paid $10,000 that day in order to save the building from foreclosure and entered into a deal with the county to pay off back taxes.
Despite the venue's financial problems ,management has continued to book weddings, events and concerts -- including Jack White, who played two highly-celebrated sold-out solo shows at the venue's Scottish Rite Cathedral about a year ago.
Before his career as a solo artist, and move to Nashville, he grew up in Southwest Detroit and performed with ex-wife Meg White as garage rock band the White Stripes. White released solo album "Blunderbuss" last year, which topped the Billboard charts, and performed at the Grammy Awards in February.
BEFORE YOU GO
PHOTO GALLERY
Abandoned Theaters In Julia Solis' 'Stages Of Decay'