Jennifer Lawrence may not be single for much longer.
The Oscar-winning actress reunited with her former boyfriend Nicholas Hoult in Montreal over the weekend as the pair enjoyed a break from shooting their film, "X-Men: Days of Future Past." The pair, who split in January after dating for two years, was joined by Lawrence's brother, his wife and their child.
Rumors that Lawrence, 22, and Hoult, 23, were rekindling their romance sparked last month after they were spotted getting cozy during a dinner date in West Hollywood, Calif. Although Hoult told Us Weekly that they're just "friends," Lawrence was reportedly displeased by the paparazzi after they photographed him with her family on June 2 -- making us assume they're more than BFFs. According to Splash News, the "Hunger Games" star stepped away from her ex-boyfriend's side when she noticed photographers were taking pictures of them and flipped the bird.
"[My boyfriend] is honestly my best friend, and hopefully I'm his best friend too," Lawrence told Elle in the magazine's November issue before her and Hoult's split. "He's my favorite person to be around and makes me laugh harder than anybody."
Let's just say we wouldn't be disappointed if these two were back together.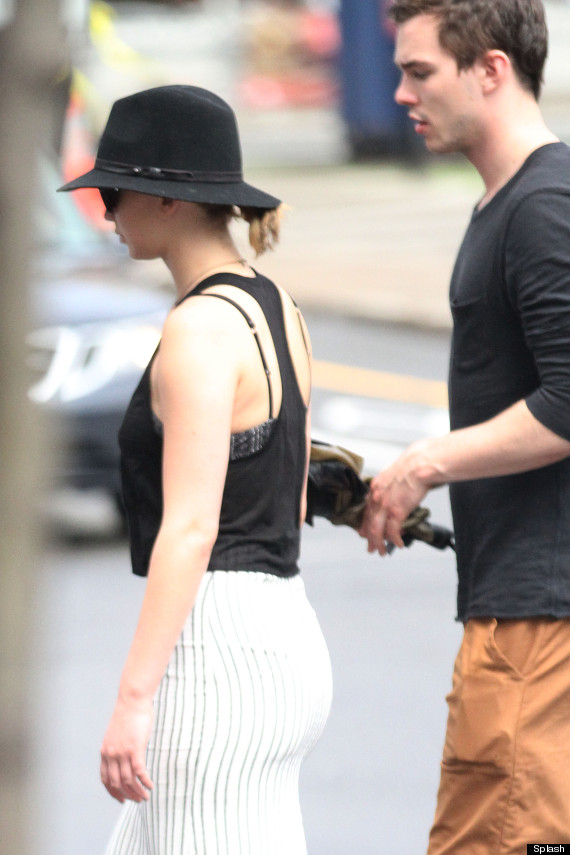 BEFORE YOU GO
PHOTO GALLERY
Jennifer Lawrence