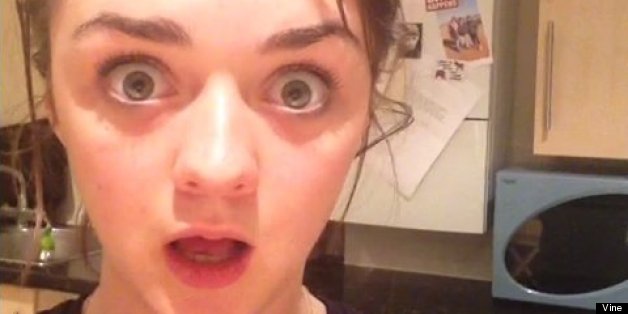 "Game of Thrones" fans may have been devastated by the Red Wedding, but Maisie Williams (who plays Arya Stark on the series) is dealing with the heartbreaking sequence with quite a bit of levity.
Note: Do not read on if you have not yet seen Season 3, Episode 9 of HBO's "Game of Thrones," "The Rains of Castamere."
Robb (Richard Madden) and Catelyn Stark (Michelle Fairley) were murdered at the command of the vengeful Lord Walder Frey (David Bradley) with Arya, who snuck away from The Hound, just outside the doors of the wedding celebration, where two more Starks met their death.
Sixteen-year-old Williams poked fun at the Red Wedding and the loss of her on-screen brother and mother in a video she posted on Vine.
"They dead," she says in a southern accent. "Like, SO dead. Like, OMG dead. My mother and brother are dead."
But many "Game of Thrones" fans had a far different reaction to the Red Wedding than Williams'. Watch a video of viewer reactions to Sunday's episode here and check out The Huffington Post's interviews with Richard Madden and Michelle Fairley.
The "Game of Thrones" Season 3 finale airs Sunday, June 9 at 9 p.m. ET on HBO.
PHOTO GALLERY
"Game Of Thrones"
BEFORE YOU GO