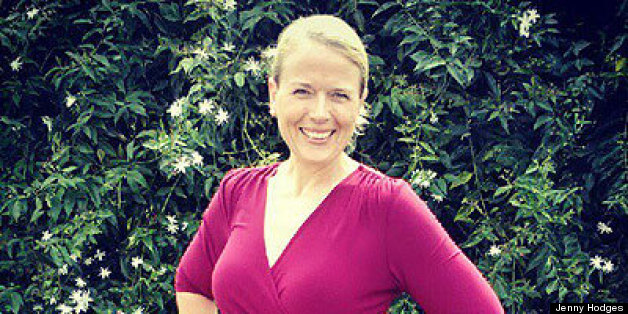 One of the reasons I started my website is that I wanted a place for women to come together and dream. We women need to know that we don't have to hang on to an old dream that has stopped nurturing us -- that there is always time to start a new dream. This week's story is about a mom who had always struggled with her weight and finally got the motivation she needed to turn things around after an embarrassing wake-up call. The mother of three dropped over 200 pounds by adopting a healthier lifestyle -- and looks absolutely incredible. -– Marlo, MarloThomas.com
By Lori Weiss
It was a picture perfect day in the suburbs. Or at least it started out that way. Jenny Hodges was in the back yard of her Florida home, enjoying a game of kickball with her three young kids. Her husband, James, had just stepped into the house for a moment to grab a glass of water -- when suddenly the festive scene outside took a sudden change -- he heard crying in the yard and their four year old daughter, Haley, came running in to get him.
"One of the kids had kicked the ball to me," Jenny explained, "and somehow when I lifted my right foot to kick it back, the ball got sandwiched between my legs and I lost my balance. I couldn't get up. Ella and Ronin were just babies and they were standing over me crying. James came running out to help me, but it didn't matter what he did, he couldn't lift me."
Jenny weighed 369 pounds and she couldn't move. So James did the only thing he could think of -- he grabbed the comforter off the bed, rolled her onto it and dragged her inside. And while nothing was broken, the damage weighed heavily on Jenny's mind.
"I felt so powerless," she recalled. "This could have been so much worse. I could have had a heart attack or stroke. I could have been unconscious. The kids were so little that they didn't even know how to use the phone."
Jenny had struggled with her weight from the time she was a child -- having grown up in the restaurant business, pizza and hamburgers were regular after school snacks. There wasn't much cooking done at home, so as she got older, fast food became her friend. By the time she walked down the aisle, she was wearing a size 20 gown.
Article continues below slideshow.
PHOTO GALLERY
It Ain't Over: Jenny Hodges
"Near the end of my third pregnancy," Jenny said, "I'd get on the scale backwards, so I didn't have to see the number. The doctor warned me that I was pre-diabetic and my triglycerides were high -- that I was putting my health in jeopardy, but it wasn't getting through."
"I thought my husband loves me. My kids love me. Everything I do, I do for them. So why should my weight matter? But this was a wake-up call. And I immediately started begging my husband to get me a gym membership."
Jenny was a full-time mom and a full-time graduate student. The family of five was getting by on one income and money was short. But Jenny continued to bring it up every day, until finally James came home one night -- membership in hand. And that was the day life would change for the Hodges family.
"I was at the gym the next day and every day after. I'd stay on the recumbent bike as long as the kids would let me. At first, that was about 15 minutes. My son, Ronin, was only two and he'd never been left with anyone other than his mom or dad before. So he'd cry and the girls in the kid's club would come get me. But I'd go back in the afternoon, after I picked up his sisters from pre-school. They'd keep him occupied and I could usually squeeze in another 45 minutes."
Three months later, the motivated mom was up to an hour each day and a very important man in her life couldn't help but notice.
"Ronin was behind me and he goosed me," she laughed, "and he blurted out, 'Mom, your butt is getting smaller!' When people see you every day, it's difficult for them to notice the difference, but at two years old, that's where his eyes were all the time. And he noticed!"
Jenny was so inspired, that she decided to take the next step -- a step aerobics class -- a big leap for a woman who was still weighing in at 340 pounds.
"They looked like they were having so much fun," Jenny remembered. "I wanted to be in there. So I went to the instructor and told her I needed help and that I was going to need some modifications. I began without the step and I'd give her a little wave when there was something I couldn't do and she'd tell me what to do next. Sometimes it was just a matter of marching in place. I just had to keep moving.
"I worked my way up from the back of the room to the front. And after three months, I decided to try using the step for the first time -- and the entire class starting clapping!"
After seven months of regular exercise, Jenny was down 80 pounds. She really hadn't changed much in her diet at that point -- except instead of driving through the fast food restaurants on her regular route, she was now driving right past them.
"I never fed the kids fast food, but I'd drive through after dropping the girls off at day care and get something off the dollar menu. It's hard to say why I treated my own body so badly, when I was so careful with the kids."
"But I hit a point where I needed to do more, and that's when I joined a weight loss program. I stopped using Hamburger Helper and I started following their recipes and I lost another seven pounds in the first week."
And as the weight continued to come off, Jenny upped the ante one more time. Her group leader was putting together a 5K race and Jenny was determined to run it.
"I always dreamt of being a runner," Jenny said with a sigh. "I literally dreamt about it. From the time I was eight years old, I watched my older cousin run. My sister was a runner in school. In my dreams, I was fast. I was fit. And I always wore pink. Pink, I discovered, is the color of hope. But then I'd wake up to my real life."
"So, when I heard about the race, I started training. And that morning, I put on a pair of pink running capris, a pink shirt and pink sneakers. I promised myself I'd run as long as I could. I challenged myself to get to the next tree or run till a song finished. When I got to the half way point, I turned around and realized I was in the front of the group! Everyone was cheering, 'Go, Jenny, Go!' And I thought, 'I'm going to take this.' And I came in first! That's when it hit me, I had become a runner. I called my sister and just started sobbing."
Two and a half years from the time Jenny first stepped in the gym, she was not only a runner, she was 212 pounds lighter. But even at 157 pounds, she had a hard time seeing exactly how much she'd accomplished.
"I had an interview coming up and I was close to my goal weight, so I went into a store where all my skinny friends shopped. I said to the woman, 'I don't know if you carry my size.' She looked at me like I was crazy and asked 'What size do you think you are? I said, 'Maybe an 18 or 20.' So we started with a size 14 and worked our way down until something fit. I couldn't believe it, but I put on a size 8 top and a size 10 bottom. I had to text a friend a picture to be sure I looked okay!"
That was the first of many shopping trips -- not just for work, but for work out gear -- lots and lots of pink work out gear. Since that first run, Jenny has moved on to half marathons. She's even taken on a 128.6 mile race that lasted three days and included running, cycling and kayaking. Now her kids are running right along with her and she's writing a blog that's inspiring other moms to get in the game too.
"I think, in a lot of regards, I've probably changed my children's path," Jenny said with a hint of relief in her voice. "They've become little athletes and they understand they need to fuel their bodies with good food."
"It can be so difficult for moms to set aside time for themselves. We feel so guilty. But when it comes to your health, it really is the best thing you can do for your family."
Add Marlo On Facebook:
Follow Marlo on Twitter:
Sign up to receive my email newsletter each week - It will keep you up-to-date on upcoming articles, Mondays with Marlo guests, videos, and more!