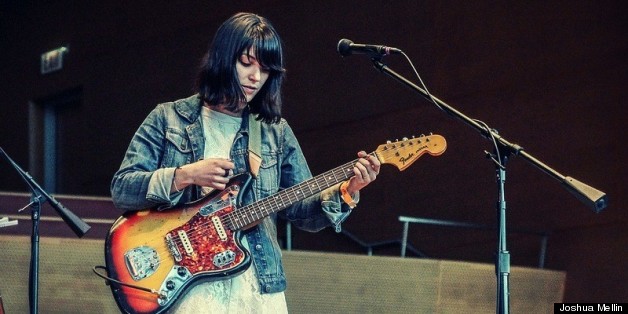 Despite the chilly June air, cool temps were no match for the warmth and charm singer-songwriter Sharon Van Etten brought to the Jay stage at the Pritzker Pavilion Monday evening.
Photographer and friend of HuffPost Chicago Joshua Mellin captured the sights of both Van Etten's performance and her openers, Chicago natives Speck Mountain.
Story continues below
PHOTO GALLERY
Sharon Van Etten, Speck Mountain At Millennium Park
All photos by Joshua Mellin
Van Etten took the stage before the sizable crowd for the second installment of the summer-long Downtown Sound music series in Millennium Park and peppered her nearly 90-minute set with friendly chatter, stage banter and plenty of heart-tugging tunes spanning her past three albums.
In between tracks like "Serpents," "Warsaw" and "Give Out," the New Jersey native took several opportunities to thank the crowd for coming out and reminding them how much she enjoys playing the Windy City.
Van Etten wrapped with a brief encore of "In Love" and "Love More" and reminded the crowd, "It's always so nice to be in Chicago."
Glen Hansard performs at the June 10 installment along with Lisa Hannigan and members of The Frames.
BEFORE YOU GO