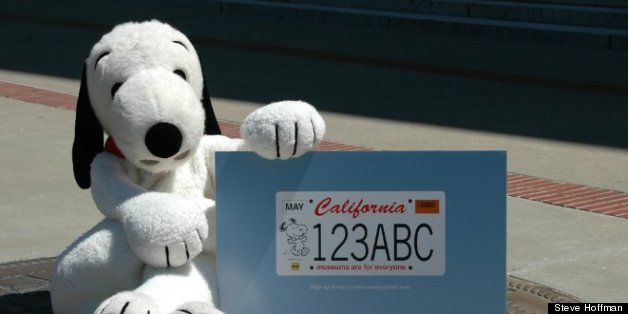 The biggest problem with most license plates is that, even though they identify your car, they don't also identify your favorite cartoon character.
Last week, the California State Assembly approved a bill that would create a Snoopy-themed license plate to benefit California museums. If the bill is approved by the State Senate, Golden State motorists will soon be able to drive around with Charles Schultz's iconic beagle adorning their cars.
Proceeds from the plates will go toward funding a competitive grant program for California's approximately 1,400 museums. Estimations for how much revenue the Snoopy plate program could earn run up to $8 million over the next decade.
Even though the Charles M. Schultz museum in Santa Rosa was a driving force behind the creation of the plates, the institution's leadership said it won't apply for the grants, creating more opportunities for other museums in the state in greater need of funds.
"I think Snoopy is a good symbol," California Association of Museums Executive Director Celeste DeWald told the Santa Rosa Press-Democrat. "Museums in California send the message that museums are for everyone, and everyone loves Snoopy."
While the state of California requires at least 7,500 people to pre-register for a plate before moving it into production, over 8,000 have already signed up for the Snoopy plates.
Everyone who registers for a plate before October 10 will be entered into a drawing to win Celebrating Peanuts: 60 Years, a 500-page "Peanuts" anthology signed by the author's widow Jean Schultz.
Drivers interested in obtaining a plate can register at SnoopyPlate.com.
The Snoopy plates would join a dozen other special interest California license plates, including those benefitting veterans organizations, Yosemite National Park and University of California Los Angeles.
PHOTO GALLERY
10 Things We Learned From Peanuts