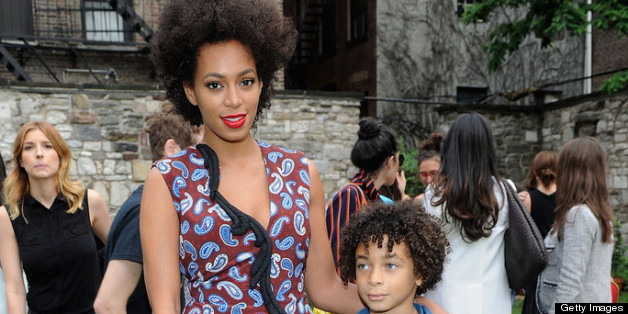 Between her work as a singer and DJ and modeling the latest fashions, Solange Knowles is a multitasking maven. And according to an interview in Brooklyn Magazine this month, she may have motherhood to thank for honing her DIA (do-it-all) ethos.
"[It] is definitely a balancing act, and it is not at all easy," Knowles tells Brooklyn, of mothering her now 8-year-old son, Julez. "I do the best I can, which involves a lot of saying no to things, actually, and a lot of really organized scheduling and a lot of help, to be honest."
By help she means the large network of family and friends -- including her big sister, Beyoncé -- who she moved from the West Coast to be closer to. "We were living in LA and I was writing and recording this album literally between the hours of 9am and 3pm every day because that was the time that Julez was in school. We were completely isolated, we didn't have any family or long-term friends there, and we didn't have that support system built in there that we have in New York," Solange explains. "We really wanted Julez to have the experience that we had growing up -- being able to drop in on his aunt's house and being able to hang out with Grandma and see our friends and have that experience of actually having a soccer game and having family show up."
It's that village that has allowed Solange to pursue her passion both outside of motherhood and beyond her career, she says.
But the helping hands (or her kinship to music industry royalty) don't free her up entirely from the responsibilities of being a single, working New York City mom. In fact, Solange is "the kind of Brooklyn parent who moved to an apartment specifically so that she would be zoned for the public school of her choice—and then visiting that school's office every day for two weeks until her son was guaranteed a spot," Brooklyn Magazine's Kristin Iversen explains.
She isn't exempt from carpool duties either. "I played BAM on Friday, and the following morning I had to pick Julez up from a sleepover and take him to parties ... Sometimes I feel like nothing more than a next-level carpool driver," she says.
Check out Solange's full interview with Brooklyn Magazine here.
BEFORE YOU GO
PHOTO GALLERY
Solange Knowles' Style Evolution