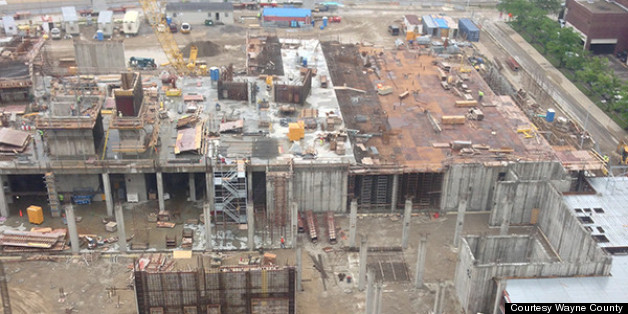 Developer Dan Gilbert has worked to transform Downtown Detroit into a lively cultural destination. So it's not surprising that he'd like to help a county jail under construction move to another site, as critics question the logic of building it on some of the city's most expensive property in the Greektown entertainment district.
Wayne County Executive Robert Ficano has spent $100 million on the jail, a project that's already over budget despite not being slated to open until September 2014.
Matt Cullen, CEO of Dan Gilbert's Rock Ventures, told The Huffington Post that he was approached by Wayne County officials two to three weeks ago about a deal to move the city's criminal justice complex to the site of an existing prison on Mound Road on Detroit's east side. Rock Ventures recently bought nearby Greektown Casino. and say moving jails and courts away from downtown could help create a walkable entertainment district stretching from Greektown to Grand Circus Park.
The Mound Road Corrections Facility, a former prison, was shut down in January 2012, but the state reopened the 200-bed facility in April to serve as a lockup facility for Detroit arrests. It could now serve as an anchor for a new jail and other city facilities.
Wayne County says they are building five new holding cells a day at the partially-completed jail, but given the project's potential cost overruns and already significant delays, it could be scrapped entirely.
The Detroit News reports that aides to Ficano have held secret talks for the past few weeks with Rock Ventures, but Cullen said those conversations were preliminary. "It wasn't a formal outreach," he said.
"We were sort of negative on the new jail site long before we even considered Greektown Casino," he told The Huffington Post. "We just think it's a bad location for it."
GREEKTOWN: CASINO, SAGANAKI AND CRIMINAL JUSTICE
Wayne County approved up to $300 million worth of bonds to finance a new jail, which came with a price tag of $220 million and was set to open in September 2014. The new downtown jail, which was supposed to hold 2,192 inmates, would supposedly save the county $20 million annually and consolidate three jails into one facility. In addition to the two jails the county's juvenile facility and courts, Frank Murphy Hall of Justice,and the Detroit Police Department's historic headquarters at 1300 Beaubien are all located within walking distance.
In September 2011, they began construction on a parcel of land bordered by St. Antoine Street, Gratiot Avenue, Clinton Street and the Chrysler Service Drive off I-75, which faces the courthouse. Urban planner Rob Linn of Data Driven Detroit said the eight lots comprising the parcel were assessed at a value of nearly $6 million in 2009, when they were privately-owned.
"If and when those properties were developed, they would be worth much, much more," he told The Huffington Post. "By building a jail on such real estate, you're denying the city tax revenue from some of area's best real estate."
Rock Ventures' Cullen questioned the logic of building a jail in a thriving downtown district. He said he's talked to Detroit Lions owner Bill Ford and CEO Tom Lewand, and he thinks the business community could support moving the complex.
"It's right at the front door of downtown. Most people accessing downtown do it through Madison Avenue -- why are we doing it right there?" he asked. "Certainly, we need an efficient and effective criminal justice complex, but it's not at all apparent that it should be in that location."
Linn said jails and prisons have been shown to lower property values by as much as 10 percent in some areas.
"County officials are erasing property tax revenues in the city's most valuable district," he said, "with nearby properties like Greektown Casino and Ford Field paying millions in property taxes each year. This is just a classic case of clipping the wings of the golden goose."

A MOVE TO MOUND ROAD?
Wayne County Sheriff Benny Napoleon was solemn when he spoke at the groundbreaking for the new Wayne County Jail in Greektown in 2011.
"This is not a cause for celebration but an unfortunate necessity," he said, according to a release.
Years later, Napoleon, who is now running for mayor of Detroit, still isn't celebrating the project. He said he's been excluded from the county's talks to move the jail, and blasted county officials in a statement sent to The Huffington Post.
"What has transpired is unacceptable as none of the aforementioned goals will be met by the facility presently under construction," he said. "If terminating the construction of the new jail project will eliminate cost overruns and moving to Mound or any other location is in the taxpayers' best interests I will support that -- as long as the facility has critical technology and security systems and does not compromise public safety."
The Detroit News reports that the state has offered Wayne County a $1 lease for the Mound Road prison facility. Sara Wurfel, press secretary for Gov. Rick Snyder, confirmed the facility was offered to county officials as a solution, but declined to provide further details. "Though I can say," she wrote in an email to The Huffington Post, "that the state always has been and is willing to assist the county. ... It's a partnership that could benefit all parties, enhance public safety in the region and strengthen investment and revitalization."
Both Napoleon and Cullen said that Wayne County officials should move quickly to make a decision on where the jail will stand before even more taxpayer money is spent. And Wayne County Commissioner Laura Cox will reportedly introduce a resolution to halt construction at the Greektown site.
We just think that it's a great time for the conversation," said Cullen, "before it reaches a point where there's no going back and the current direction is locked in stone."
"There's still time."

BEFORE YOU GO
PHOTO GALLERY
Best Of Photos And Video In Detroit This Week