Daily deals giant Groupon released a very personal offer Wednesday morning in honor of slain cyclist — and Groupon employee — Bobby Cann.
Story continues below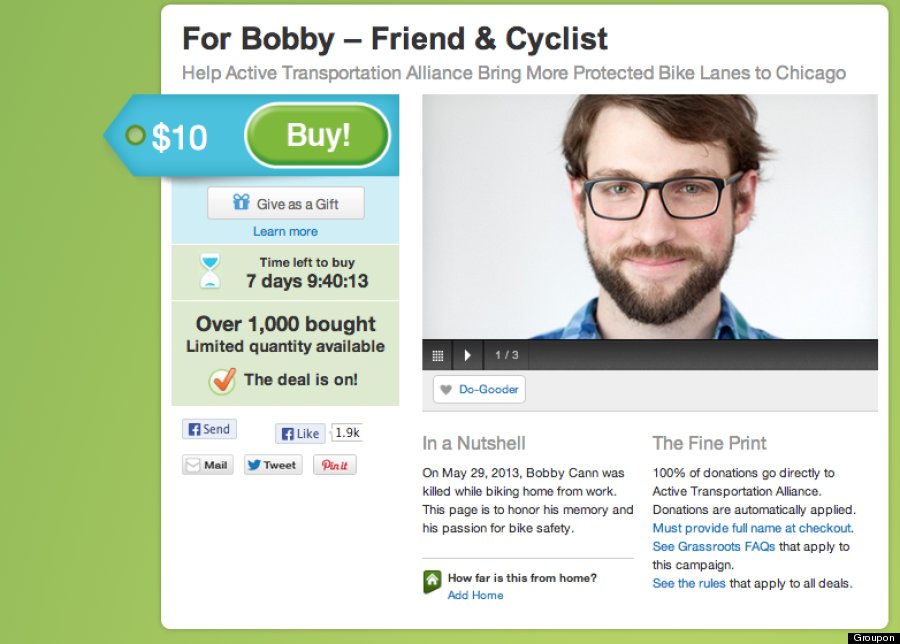 The "offer" is a $10 donation to Chicago's Active Transportation Alliance to help build more protected bike lanes in the city. Cann, 26, was killed in May while biking home from work after a drunk driver struck him from behind.
In the background information describing the deal, Groupon describes Cann, who was an editorial tools specialist at the company, as a cyclist who loved riding in all seasons and enjoyed riding both en masse and on his own.
"Bobby talked about the Ride of Silence and Critical Mass bicycle rides like some people talk about church: a way to commune with others, to feel joy and belonging as a participant in Chicago's culture," the listing reads.
As of Wednesday afternoon, more than 1,000 people had already purchased the deal that has more than seven days left until it expires.
The funds raised during the deal will go toward the ATA's Neighborhood Bikeways Campaign, which is striving for the completion of a 100-mile network of protected bike lanes by 2015. "These lanes can reduce crashes and make all modes of transportation safer for everyone," according to the ATA's description.
The stretch of Clybourn where Cann was killed is under the jurisdiction of the Illinois Department of Transportation; in February, IDOT blocked the City of Chicago from installing protected bike lines on such roads until it could gather data of safety.
Days later, after IDOT caught flak from the cycling community, Streetsblog Chicago noted the department tweeted:
(1 of 2) IDOT is working with the City of Chicago on its plans to resurface & restripe Clybourn Avenue

— IDOT (@IDOT_Illinois) May 31, 2013
(2 of 2) with the installation of a buffered bike lane along Clybourn Avenue. The Department supports the City's efforts.

— IDOT (@IDOT_Illinois) May 31, 2013
Several people responded to IDOT's tweet urging them to install lanes with an actual barrier, rather than the mere rubber poles that are currently used in bike lanes the city considers "protected."
The driver who hit Cann was charged with reckless homicide, felony aggravated driving under the influence involving a death and other charges. Prosecutors say Ryne San Hamel, 28, had a blood-alcohol content of .127 when he struck Cann, DNAinfo Chicago reports. A judge ordered that Hamel surrender his passport and held the man on $100,000 bond.
BEFORE YOU GO
PHOTO GALLERY
How To Bike Commute Like A Pro