If Chicagoans smelled something wafting from Wicker Park Tuesday night, it may have been some of that life-changing Chicago pizza — or perhaps the fragrance of sheer awesomeness emanating from this: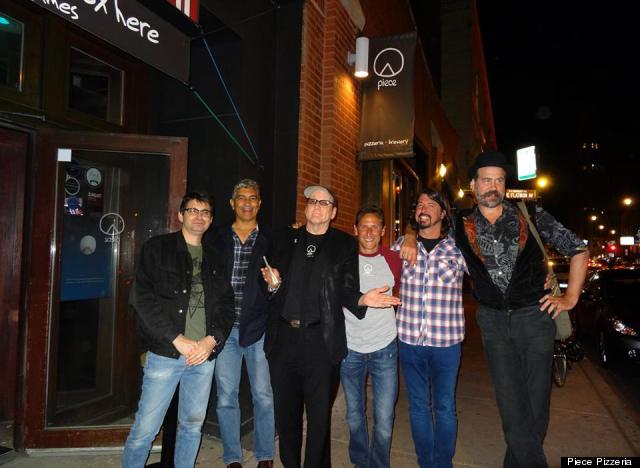 (From left to right, Steve Albini, Pat Smear, Rick Nielsen, Piece owner/operator Bill Jacobs, Dave Grohl and Krist Novoselic)

The Nirvana crew (sans Kurt Cobain, naturally, and plus touring musician Pat Smear), Steve Albini, and Cheap Trick's Rick Nielsen were spotted hanging out at Piece Pizzeria & Brewery in Chicago.
While Albini is a Chicago resident (and a noted foodie) and Nielsen resides in suburban Rockford, why the Nirvana lads were in town is anyone's guess. Grohl has been a guest of the Rolling Stones on their current tour (which recently left town after a three-night stint); a Chicagoist commenter, meanwhile, notes this is the 20th anniversary of the band's album, "In Utero," which was produced by Albini.
The only thing that could have possibly made the meeting more awesome is if Nielsen busted out one of his five-neck guitars.
Before the late-night pizza party, Twitter was buzzing that Grohl, Smear and Novoselic hit famed burger joint Kuma's Corner as well.
Thanks for visiting, guys!
BEFORE YOU GO
PHOTO GALLERY
Nirvana Songs