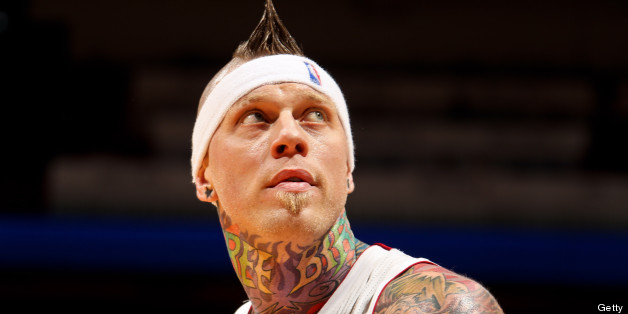 X-factors: Some teams have them (the good ones), some don't (mostly, well...). So it comes as no surprise that in the case of the 2013 NBA Finals, both the Miami Heat and San Antonio Spurs have guys who can take over the game in a pinch. So if you're tired of reading about LeBron James, Dwyane Wade, Tim Duncan and Tony Parker, here are the key X-factors for each team.
Chris Andersen, PF/C, Heat
For a guy who averages just 5 points and 4 rebounds a game -- and who didn't even begin the season with the team -- Chris Andersen, aka "Birdman," has made himself a part of the Heat's DNA. Game 6 of the Indiana series, for which Andersen was suspended, is a case in point. Not to say the Heat would have won that game on the road with Bird, but his infusion of energy and physicality was clearly missing, as Miami had to rely instead on fellow reserve Joel Anthony.
Against the Spurs in the Finals, Andersen's entire mission will be to wear down Duncan while generating second-chance opportunities for the Heat offense. His shot-blocking is a plus, particularly when he shares the floor with the anemic Chris Bosh and Udonis Haslem, who is a high-effort guy but not a rim protector. There is also the matter of Andersen's added offensive punch in the playoffs. Up until Game 7 of the Eastern finals, he had connected on 18 consecutive field goals (most of which were dunks and layups), while shooting 83 percent from the floor, and he is threatening the all-time postseason field goal percentage mark. Even if he's a small threat, that gives Miami a boost, because he does so much else when he's on the floor.
Matt Bonner, F, Spurs
The argument can certainly be made that Manu Ginobili belongs here instead. But Bonner's tremendous 3-point shooting could become a vital factor on offense for the Spurs in this series. He's strictly a pick-and-pop or spot-up guy, but he's shooting 50 percent from three in the playoffs. The entire San Antonio offense is geared around Parker's penetration and ability to attack the paint. Miami knows this, and San Antonio knows that Miami knows it, as well. As a result, Bonner should get four or five clean looks a game and will consistently draw the Heat bigs away from the basket. In fact, he shot a robust 57 percent in two games against them this season, which translates to 9 percent better than his average.
Email me at jordan.schultz@huffingtonpost.com or ask me questions about anything sports-related at @Schultz_Report.