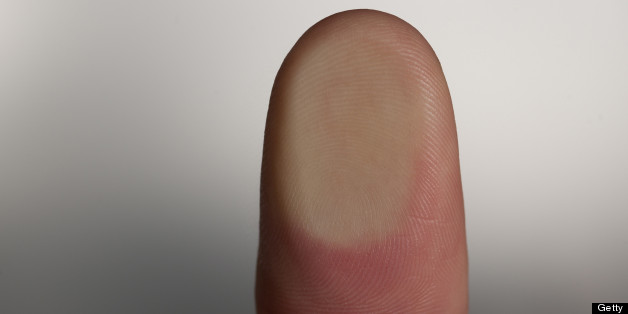 If you're sick of punching in a passcode to keep your iPhone secure, one Apple analyst has some good news for you.
Topeka Capital's Brian White became the latest Apple rumormonger to talk up fingerprinting technology may be coming to the iPhone 5S, Business Insider reports. "Our research suggests that users will simply place their finger on the home key of the iPhone 5S and this will automatically unlock the device, nullifying the need to enter a four-character Apple ID Password," White says.
If this James Bond fantasy sounds familiar, it should. This rumor has been floating around for quite a while, since Apple bought security firm AuthenTec in July 2012. AuthenTec has done a good deal of research on fingerprinting technology, and Apple's purchase of the company stipulated that AuthenTec was no longer allowed to license out its technologies to other companies, leading many to believe that Apple is making it an exclusive feature of its products.
Respected Apple analyst Ming-Chi Kuo of KGI Securities predicted fingerprint hardware for the "iPhone 6" in January. At the time, HuffPost made the case for why Apple will add print scanning to its next devices.
Although he is often trying to anticipate Apple's next moves, Brian White doesn't have the best prediction history. As we noted last year, White has wrongly predicted Apple's stock price and the iPad Mini release date, among other things. He did, however, get the iPhone 5's release date right, so he's got that going for him.
If you're anxious for answers, don't worry. Everything may be clear soon enough. Apple's World Wide Developers Conference is starting in just a few days, and the company is expected to clear up a lot of rumors and make some important announcements. However, if it keeps the lid on any new iPhone or iPad this June, as expected, we'll likely have to wait until the fall.
BEFORE YOU GO
PHOTO GALLERY
6 Things The iPhone Is Killing