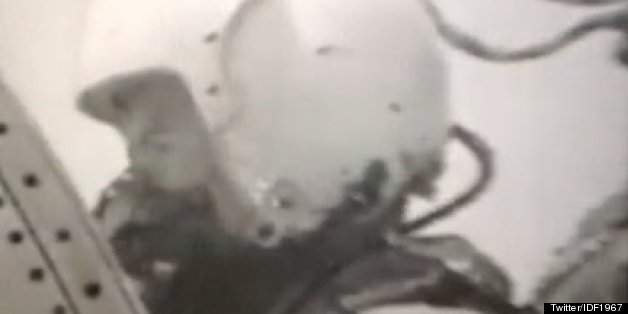 Once again displaying its ability to use social networks for bizarre purposes, Israel began live-tweeting a play-by-play reenactment of the Six Day War of 1967 Wednesday morning.
Luckily, this time around, no one will be killed (we hope.)
The Israeli Defense Forces (IDF) announced the project on Tuesday:
Throughout the next 6 days, we will go back in time to live-tweet the Six-Day War in Hebrew. Follow us and relive history @idf1967

— IDF (@IDFSpokesperson) June 4, 2013
Since early Wednesday morning, the IDF has been updating a new Twitter account (in Hebrew) with key events from the brief, bloody conflict at the exact time they occurred 46 years ago.
One tweet seeks to justify Israel's decision to go to war: "In response to repeated provocations by Egypt, the State of Israel and the IDF are going to war," it says. "We will not sit idly as the enemy forces tighten the noose around our necks."
Another celebrated the bombing of Arab airfields: "Of the recent accomplishments of Operation Moked: 29 Jordanian planes destroyed. 60 Syrian. 17 Iraqis. #June 67 #Moked," the tweet read, according to a HuffPost translation of the text.
The IDF even posted Vines as part of its strange project, like this one, which shows Israeli planes dropping bombs:
צפו: מטוסינו מכים פעם נוספת בשדות התעופה המצריים. 304 מטוסים כבר הושמדו #מוקד #יוני67 vine.co/v/b32jJKgBLAr

— צה''ל בששת הימים (@IDF1967) June 5, 2013
"Watch: Our plans strike yet again at Egyptian airports. 304 plans demolished. #Moked #June67," the tweet says.
But some people were a little confused by the IDF's Twitter messages. Here's one user expressing alarm at an IDF tweet:
@idf1967 Read the tweet, forgot for a second that it was supposed to be from 1967 and had a mini heart attack! But great project!! #Israel

— Beca Bookman (@BecaBookman) June 5, 2013
(h/t Liat Kornowski for translating the IDF's tweets)
BEFORE YOU GO
PHOTO GALLERY
Around The World In 10 Photos