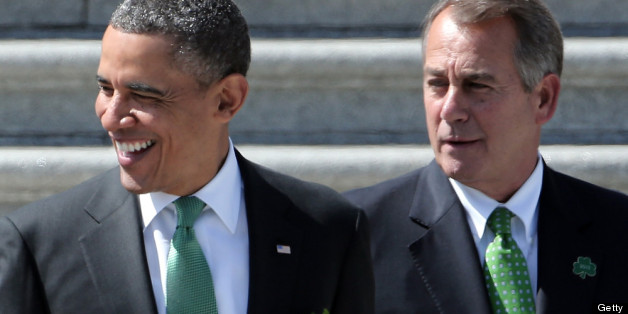 Imagine if you will, two wrestlers, of roughly equal size and ability, locked in a match with one another. Typically, what will happen in such a contest is that one of the wrestlers will demonstrate superior strategy and technique, and slowly overcome his rival to win. In repeated match-ups, the formerly vanquished rival might make important strategic adjustments to regain the upper hand. And so on and so forth. Repeatedly viewing this hypothetical pair of wrestlers might, for the viewer, instill an appreciation for the merits that both competitors bring to the game.
But what happens when one of the wrestlers, mid-clutch, abruptly relents, disengages and steps away? His rival, unprepared for the sudden disappearance of equal pressure, might well stumble forward and sprawl all over the ring in embarrassing fashion. The referee might disqualify the wrestler who quit, giving the stumblebum athlete the "win" by forfeit, but both wrestlers end up looking pathetic and weird.
That's the image I think about when I read Josh Barro's Business Insider piece on how the GOP managed to make "both parties stupid on infrastructure." Barro's argument is that with Republicans all but refusing to engage in the debate on infrastructure, the "optimal policy" is not being realized, and Democrats are left "fear[ing] that if they don't defend wasteful, ill-conceived rail projects, they won't get any at all."
Republicans ought to be providing a healthy skepticism about government projects -- attention to cost-effectiveness, awareness of opportunity cost, recognition that sometimes government actions produce unintended consequences. But a healthy skeptic sometimes conducts those evaluations and still says "yes" -- which is why people take him seriously when he says "no." Republicans have shifted from skepticism to pure obstinacy, fighting at every turn against government solutions, which is why their (sometimes perfectly valid) critiques of government action lack credibility.
Barro notes that "this dynamic is not limited to infrastructure." In turn, I'll point out that this observation is not limited to Barro. Let's recall Thomas E. Mann and Norman J. Ornstein, writing last April for the Washington Post, providing a better sports metaphor than mine:
The post-McGovern Democratic Party, by contrast, while losing the bulk of its conservative Dixiecrat contingent in the decades after the civil rights revolution, has retained a more diverse base. Since the Clinton presidency, it has hewed to the center-left on issues from welfare reform to fiscal policy. While the Democrats may have moved from their 40-yard line to their 25, the Republicans have gone from their 40 to somewhere behind their goal post.
In other words, they've quit the field, and in so doing, have hampered the overall quality of policymaking. It's really, really easy to win arguments against Rep. Michele Bachmann (R-Minn.), but what muscles are you working by doing so?
Unfortunately, there's really no way for the Democrats to will the GOP back onto the field. (And the news today is that Sen. Marco Rubio (R-Fla.), after taking on the job of being the public face of comprehensive immigration reform, may be heading to the sidelines himself, which will hurt just about everybody.) I give credit to President Barack Obama for offering enticements. The Affordable Care Act contained a lot of Republican ideas, for instance. He's offered up chained CPI as a Social Security reform. Even when Obama could have gotten the Bush-era tax cuts rolled back on everyone making more than $250,000 a year, he relented in the 11th hour and settled on repealing the tax cut on earners making $400,000 a year. That's just free stuff he's giving away, in the hopes that Republicans will come play. (I think that it's arguable that House Speaker John Boehner (R-Ohio) would prefer to not work this way, either.)
I agree with Barro that the obvious preference is to have a debate between two responsible, intelligent parties, operating in good faith opposition.
Please, please, please understand that this is not the same thing as having "bipartisanship."
READ THE WHOLE THING:
How Republicans Made Both Parties Stupid On Fixing Infrastructure [Business Insider]
Let's just say it: The Republicans are the problem [Washington Post]
[Would you like to follow me on Twitter? Because why not?]
This story appears in Issue 53 of our weekly iPad magazine, Huffington, in the iTunes App store, available Friday, June 14.
BEFORE YOU GO
PHOTO GALLERY
Extreme GOP Platform Positions