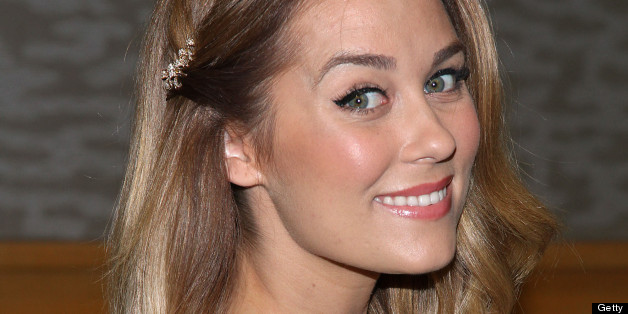 These days, our knowledge of celebrities too often originates with paparazzi images and snarky quotes by anonymous "insiders." After a while, it's easy to forget that stars are real people. That's why HuffPost Celebrity decided to launch its all-new #nofilter quick-fire question-and-answer series. Because how well do you know someone until they've shared their guiltiest pleasures?
Lauren Conrad broke into the business after starring on MTV's hit reality shows "Laguna Beach" and "The Hills." But since her exit from the TV world in 2009, Conrad has launched her own fashion line, written two best-selling book series, released a beauty and style website and is now preparing to unveil her new bedding collection for Kohls. She's truly created a business from the ground up.
The 27-year-old is currently partnering with Downy to introduce Americans to the "Downy Difference." She chatted with HuffPost Celebrity at the Downy pop-up Laundromat in New York City on June 5, discussing everything from her favorite TV shows to her ideal guy.
What filter do you use for your Instagram … because we want to use it too.
I'm literally Instagramming right now! I use an app. It's actually a little different every time, but the photos just tend to kind of all look the same. I use a different app and then I upload them to Instagram.
What's your must-have item for summer?
It's probably sunscreen. I know that's kind of boring, but I am big on sunscreen.
What's your guilty pleasure?
Online shopping. My biggest problem is that when I wake up and I have my emails from Gilt and all the kind of sales then that's when I end up with all the boxes on my doorstep.
Is there something from your childhood wardrobe you wish you could wear now?
My sunglasses that I used to wear. I wouldn't just wear normal sunglasses, they had to be like stars or hearts or just crazy shapes. But when I look back at photos, I'm like "Those are crazy glasses!" And my mom is like, "You insisted on it. That was not me, that was you!"
You never know, those sunglasses could definitely be a trend again.
Hearts with the little Lolita? Yeah, definitely.
What shows are always on your DVR?
"New Girl," "The Mindy Project," "Modern Family" and then, like, several different HGTV shows. "Property Brothers" … etc.
What's your biggest turn-off in a guy?
Bad manners.
And your biggest turn-on?
A sense of humor.
What's the craziest rumor you've ever read about yourself?
I don't know if there has ever been anything like crazy, crazy. It's usually just that I'm dating someone who I've never met. I don't know where it comes from.
Who's your celebrity crush?
We were talking about this the other day … I don't really have one!
What song have you downloaded recently?
Let's check [pulls out her phone]. It was "Don't Worry, Be Happy." [laughs] By Bobby McFerrin.
When was the last time you spoke to your "Hills" castmates?
I saw Lo [Bosworth] this weekend! It's Wednesday, right? She's launching a website today!
Any future goals for you?
I'm just starting a couple of things right now, so I usually give it a few months so I don't take on too much. I'm launching a website in September that we're going to put out an announcement for soon with all the details and stuff. But we're basically working with artists and groups all over the country and doing kind of fun pieces.
I know you said you're done with reality TV, but would you ever do a different kind of show, like an HGTV series?
Maybe, I don't know. I think it would have to be the right thing. Honestly, being behind the camera sounds a lot more exciting. I was always interested in that, I think, because it was so taboo for me to know about when I was involved in television. They kept it so far away from me, it was all I wanted to know.
Do you have any regrets at all?
No. I'm happy with the way everything has worked out. No complaints.
BEFORE YOU GO
PHOTO GALLERY
They said WHAT? #nofilter