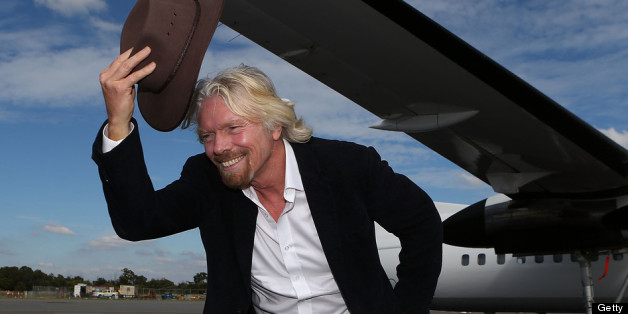 We already know what a day in the life of Richard Branson is like. Now, business-minded do-gooders can get a taste of the nightlife alongside the trailblazing entrepreneur -- all in support of charity.
The UK's fourth richest person is auctioning off a night of partying at a surprise location through Charitybuzz, which will benefit DoSomething.org.
Branson's collaboration with Charitybuzz and DoSomething marks a continuation of his ongoing philanthropy and involvement with nonprofits, which is the motivating force behind his business dealings, he says. In May, Branson told the Montreal Gazette that, "money in itself is not that interesting." What is interesting about money, he told the news outlet, is how it allows people to "make a difference in the world."
In mid-February, for example, the business tycoon joined the Giving Pledge, through which he will donate half of his $4.6 billion fortune to charity. His offer to party with the highest bidder is not surprising given his previous eccentric methods of philanthropy, such as his recent stint dressing up as an air hostess. The effort helped raise money for an Australian foundation for hospitalized children, the Associated Press reported.
Branson joins several other celebrities supporting Charitybuzz's efforts, including President Clinton, Michael Jordan, Eddie Vedder, Seth MacFarlane, Paul McCartney, and Ozzy Osbourne. Charitybuzz has recently carried out notable campaigns, including an auction to get coffee with Apple CEO, Tim Cook.
In April, Cook partnered up with Charitybuzz to raise money for the RFK Center for Justice and Human Rights in an auction where participants bid over an opportunity to grab coffee with him. Last month, Cook's efforts raised $610,000.
Bidding for the Branson auction closes June 11.
BEFORE YOU GO
PHOTO GALLERY
Richard Branson's Stewardess Getup