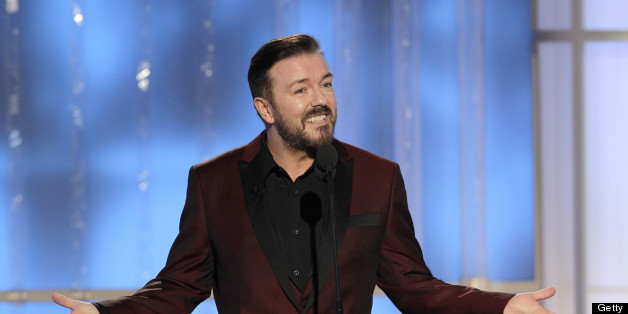 Ricky Gervais would host the 2014 Oscars, but only if the Academy of Motion Picture Arts and Sciences would agree to his conditions.
"I doubt the job offer would come without some strings attached," Gervais told GoldDerby.com editor Tom O'Neil when asked about the prestigious Oscars host gig. "The worst string being, handing in my credentials as a comedian in favor of a family entertainer. We have to be able to poke fun at society without favoring any part of it because we are beholden to someone. And it's a fine line between feeling like you've sold your soul and feeling like you're ruining someone's party. It would be very temping though, I must admit."
Gervais told O'Neil that he would be "incredibly flattered" if asked to host the 86th annual Academy Awards. "It would be a thrill and an honor," he added. As of now, no one has been announced as host of next year's Oscars ceremony. This year's host, Seth MacFarlane, has said he will not return.
For what it's worth, Gervais has offered his services to the Academy before. After Eddie Murphy quit as Oscars host in late 2011, Gervais joked to Access Hollywood that he could step in on short notice. "I'll do it," he said. "I'll do that as well. I'll be in town any way for the [Golden] Globes." (Billy Crystal wound up stepping in for Murphy in 2012.)
Gervais hosted the Golden Globes twice, most recently in 2012. Watch his monologue below. For more, head over to GoldDerby.com.
[via GoldDerby.com]
PHOTO GALLERY
2013 Oscars