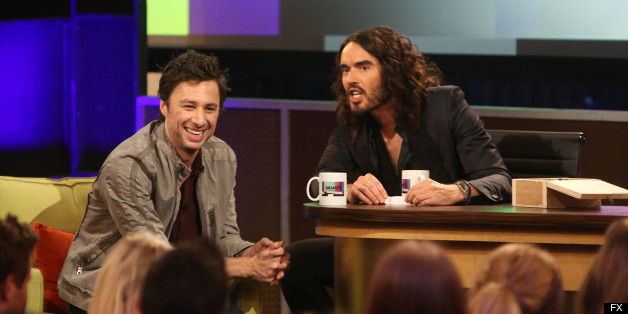 "Brand X with Russell Brand" has been canceled, FX Networks CEO John Landgraf revealed to reporters during a press conference on Thursday.
However, FX is still very interested in staying in business with Brand, revealing that they're working on a scripted live-action pilot starring the comedian. "[It's] loosely based on his life in the way that, say, 'Curb Your Enthusiasm' is loosely about Larry David's life," Landgraf said. The pilot is in its early stages and a writer has not yet been hired.
"Brand X" went through some major changes between its first and second seasons. The series debuted in June 2012 as a weekly half-hour show, initially without guests, but Brand had an on-stage political analyst Matthew Stoller. As the debut season went on, "Brand X" added celebrity guests and Season 2, which debuted in February 2013, expanded to an hour-long live broadcast format. Stoller was replaced by Steve Jones of Sex Pistols fame.
In the end, "W. Kamau Bell and [executive producer] Chris Rock were more ready to go to do a daily show," Landgraf said, comparing "Totally Biased with W. Kamau Bell" to "Brand X." "Totally Biased" will move to FXX in September 2013, where it will switch to a nightly format.
PHOTO GALLERY
2013 Renewal Index: Canceled, Renewed & On The Bubble Shows
BEFORE YOU GO