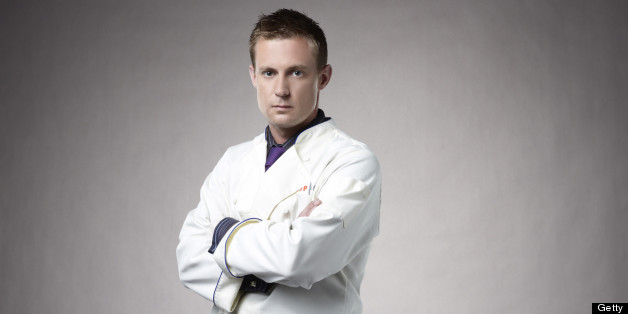 WASHINGTON -- A hometown boy is becoming the first "Top Chef" to transition to sister Bravo program "Top Chef Masters."
Bryan Voltaggio, the star chef behind Volt, Family Meal and Lunchbox (all in Frederick, Md.) and Chevy Chase's Range, will be the first "Top Chef" contestant to compete on "Top Chef Masters," Bravo announced Wednesday:
Well, apparently Bryan Voltaggio can stand the heat because he's not ready to get out of the Top Chef kitchen. Bryan will become the first Top Chef to compete on Top Chef Masters, Bravo -- that's us! -- announced today. The new season, which will premiere July 24th at 10/9c, welcomes 13 chefs -- including Bryan -- competing for the title of Top Chef Master.
Voltaggio, who came in second to brother Michael on season six of "Top Chef," will join 12 other chefs in the kitchen when "Top Chef Masters" returns July 24.
Speaking to The Washington Post, Voltaggio said that walking into the "Top Chef" kitchen all these years later, "something kind of clicked."
Like, "Okay, I'm back in this. I'm back in competition mode. I'm back and trying to win something." Obviously, the focus was different. The focus was for my charity, but then it was also a constant reminder of what "Top Chef" did for me, that it helped me do better things for the cause that I'm working for. I'm able to reach out to more people because I had that exposure. So I felt like I owed them more.
Voltaggio's appearance will benefit Share Our Strength, a campaign to end child hunger in America.
Here's the full list of "Top Chef Masters" season five contestants:
FRANKLIN BECKER - Executive Chef: The Little Beet, New York, NY; Competing for Autism Speaks
DAVID BURKE - Executive Chef & Owner, David Burke Townhouse, Burke in the Box, David Burke Fishtail, David Burke Fromagerie, David Burke Prime, David Burke's Primehouse and David Burke's Kitchen, New York, NY; Competing for Table to Table
LYNN CRAWFORD - Chef-Owner: Ruby Watchco and Ruby Eats, Toronto, Canada: Competing for Sunnybrook Foundation
ODETTE FADA -Executive Chef, San Domenico, New York, NY; Competing for Doctors Without Borders
NEAL FRASER - Owner, BLD, Fritzi Dog, The Strand House, Neal Fraser & Co. at Vibiana, Redbird at Vibiana, Los Angeles, CA; Competing for Alex's Lemonade Stand
JENNIFER JASINSKI - Executive Chef and Owner, Rioja, Bistro Vendôme, Euclid Hall Bar & Kitchen, Denver, CO; Competing for Work Options for Women
DOUGLAS KEANE – Former Chef of the 2 Michelin Starred Cyrus, Sonoma County, CA; Competing for Green Dog Rescue
JENN LOUIS - Executive Chef and Co-Owner: Lincoln and Sunshine Tavern, Portland, OR; Competing for City of Hope
RICHARD SANDOVAL - Chef-Owner Richard Sandoval Restaurants, Los Angeles, CA; Competing for C-Cap – Careers Through Culinary Arts Program
BRYAN VOLTAGGIO - Executive Chef | Owner, VOLT, Lunchbox, Family Meal and RANGE, Frederick, MD; Competing for Share Our Strength
HERBERT WILSON - Executive Chef: Sushi Samba, Las Vegas, NV; Competing for American Heart Association
SANG YOON - Executive chef and owner: Father's Office and Lukshon Restaurant, Los Angeles, CA; Competing for Worldwide Orphans Foundation
SUE ZEMANICK - Executive Chef: Gautreau's, New Orleans, NO; Competing for Gulf Restoration Network
Voltaggio's other summer 2013 project is a little closer to home: He'll soon open a second location of sandwich shop Lunchbox in Chevy Chase Pavilion. Wrap-around signage is up now: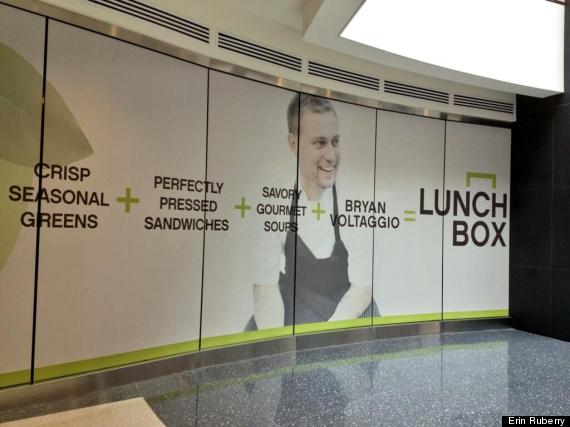 BEFORE YOU GO
PHOTO GALLERY
11 Most Polarizing Celebrity Chefs