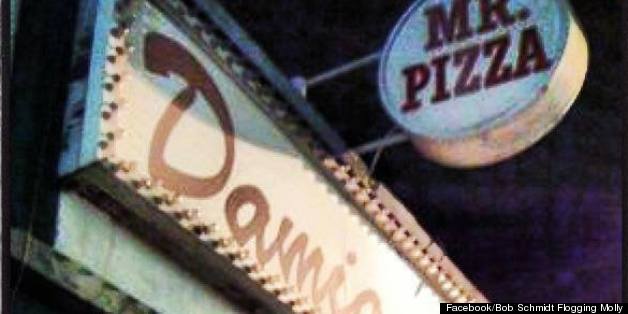 LA's Fairfax Village, the strip of businesses on Fairfax Avenue between Beverly and Rosewood, have remained largely untouched over the decades. There's the famed 24-hour Jewish deli Canter's, going strong since 1931, and the dive bar Kibbitz Room, hosting rock shows since 1961. There's also a cluster of bars that allows for a small New York-style bar crawl, as well as a few humble kosher spots.
But the street started bending toward the foodies in 2008 with the arrival of Animal, the meat-loving, high-priced restaurant by chefs Jon Shook and Vinny Dotolo. And as the duo continue to make their mark on the strip by buying -- and shuttering -- Damiano's Mr. Pizza, not everyone is happy.
Damiano's, open since 1964, officially closed last week. It served New York-style pizza, including all-night delivery, fitting in with the New York feel of the block.
Shook and Dotolo, the stoner-dude chefs who also helm Son of a Gun on West Third Street and, more recently, Trois Mec on Highland Avenue, are amassing a small empire for themselves in Los Angeles.
So will they design their new restaurant with Fairfax Village's history and unique culture in mind? That's doubtful, according to a recent interview Dotolo did with Zagat. The chefs are considering barbecue, ramen or sandwiches as the focus of the new restaurant. No matter what they choose, it's clear that the chefs think they will raise the flavor profile of the neighborhood simply by replacing Damiano's, which is sorely in need of repair.
"It's pretty appalling that they served food out of this place," Dotolo said to Zagat. "That's all I'm going to say."
"We want to make the block better, to make the block more of a destination," he added.
But there's some push back. "What happened? Look around Fairfax, it's becoming one of those cookie cutter cool hipster hangouts where the wealthy can go and not feel threatened by something that they don't recognize from television," Theodor Reinke wrote on Damiano's Facebook.
And when Dotolo posted a photo to Instagram of the shuttered restaurant last week, not all of his fans responded positively.
"I am a huge fan of Animal and Son of a Gun but this is so sad. For anyone that grew up in LA or knows LA at all Damiano's was an institution," baronparty wrote on Dotolo's photo. "For people that are so prominent in the LA food scene they should know better..."
Damiano's was definitely more about the late-night, post-rock-show vibe than about the pizza. The place had only
three out of five stars on Yelp
and plenty of less-than-complimentary reviews. That said, there may be a future for loyal Damiano's fans, many of whom
tweeted in dismay
at the restaurant's closing;
Damiano's tweeted
that it is currently looking for a new location:
New location in the works! #KeepHopeAlive twitter.com/DamianosMrPizz…

— Damiano's Mr. Pizza (@DamianosMrPizza) June 3, 2013
What do you think? Will a second Shook/Dotolo spot help the economy and foot traffic in Fairfax Village or will it take the historic pocket in the wrong direction?
BEFORE YOU GO
PHOTO GALLERY
Food Trends Others Predict For 2013