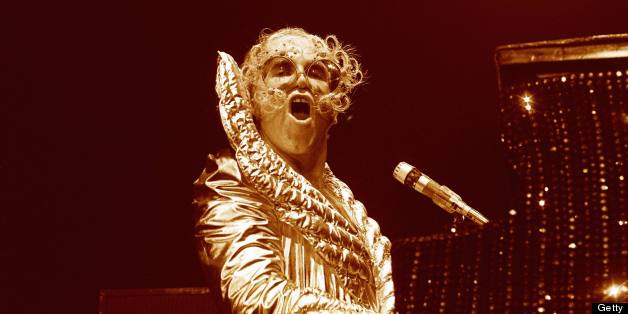 Russia really knows how to celebrate Pride Month!
After the country's public feuds with Madonna, Pussy Riot, and their own LGBT community, it's no secret what Russia thinks of the "homosexual lifestyle."
Now, the Communists of Russia, a small communist group in the south of Russia, are threatening to protest an upcoming Elton John concert in the city of Krasnodar if the singer doesn't change his flamboyant outfits.
The best (worst?) part?
Mikhail Abramyan, who heads the local chapter of the Communists of Russia, called John's outfits "homosexual propaganda." But he didn't stop there -- he even suggested a more appropriate wardrobe for the musician: "a knee-length caftan, a fur hat and leather boots." Even though the concert promoters have rejected the idea, Abramyan hopes John reconsiders.
Madonna was sued last year for $10 million by Russian anti-gay groups because they claimed her concert in St. Petersburg "promoted homosexuality," a criminal offense in many regions in the country. Hopefully John will pull the most outrageous costumes out of his closet in his own form of protest when he plays there in July.
(h/t to Towleroad)

BEFORE YOU GO
PHOTO GALLERY
Gay Pride Anthems 2012