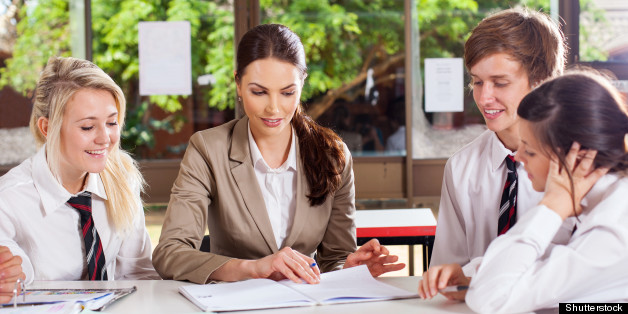 This article was written by teen reporters from The Mash, a weekly publication distributed to Chicagoland high schools.
By Francesca Downs
You're not even a graduating senior yet, but you're already stressed about college. Your aunt and uncle—even your second cousins—have started asking you about your dream school and how you're going to get there. But you still have absolutely no idea where you want to go.
There's one person who can guide you through these terrifying times: your high school counselor or advisor. They're there to help you decide where to go to college, how to get there and answer those tricky questions that no one else even thinks about. But in order to take advantage of everything your counselor has to offer, you have to make an effort too.
So how do you get in your advisor's good graces? We turned to an insider, Jones College Prep counselor LaToya Hudson-Spells, to find out.
"The student has to be willing to be open and be honest with the counselor about his or her strengths or weaknesses," Hudson-Spells said. "And the counselor has to provide that environment so the student feels comfortable to be able to open up."
Making time to talk with your counselor is the first step to building the bond. Whether you're stopping by their office to say hello between classes or scheduling an appointment, you're helping your counselor get to know you.
"I set a time once a week to see my counselor during my lunch period," Whitney Young senior Karen Lee said. "We mostly talk about my college plans and what I have done on my checklist to finishing my priorities regarding the topic."
When you schedule time to talk to your counselor about college, be sure to have a few conversation topics in mind. You could even jot down any lingering questions.
"A lot of times I'll ask the student (for) their must-haves … the things in a school you need to have," Hudson-Spells said about these meetings. "As I get to know a student, I can guide (them) to what college could be the best fit for them."
If you're having a hard time figuring out where to start with the college process, ask your counselor to help you develop a to-do list.
"(My college advisor) helped me create goals for myself and important deadlines," Lee said. "And when they didn't get done, we talked about what went wrong and how could I overcome them."
Remember, your counselor is there to help you out, but you have to be willing to put in the effort to build a strong bond.
"Being a counselor is really cool," Hudson-Spells said. "I love what I do. I just want make sure my students love what they do in the future."
BEFORE YOU GO
PHOTO GALLERY
How To Keep Graduation Stress-Free