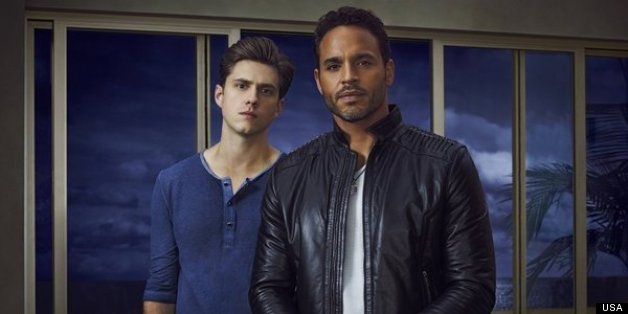 The premiere of USA's "Graceland" (June 6 at 10 p.m. ET) will introduce viewers to a very different kind of drama from the No. 1 cable network's usual brand of optimistic, blue sky fare. Hailing from "White Collar's" Jeff Eastin, "Graceland" stars Aaron Tveit and Daniel Sunjata as covert FBI agents who live alongside operatives from the Drug Enforcement Agency and Customs, sharing intel and working cases while trying to maintain their cover identities (and stay alive).
Eastin originally wrote the pilot for "Graceland" before he created "White Collar" for USA, with the series initially set up at NBC. After the network passed on the project, Eastin threw himself into "White Collar," but his passion for "Graceland" remained. In a recent interview with The Huffington Post, Eastin admitted that "Graceland" was "my favorite thing I'd written," but, despite repeatedly being told it was "one of the best scripts" that various executives and showrunners had ever read, no one seemed willing to make it.
Eastin said that Matt Nix, creator of USA's "Burn Notice," summed up "Graceland's" apparent issue. "He said, 'I don't understand what the format of the show is ... There's no sense of it being procedural.' I considered changing it, but ultimately it was, 'No ... I don't really want to mess with it ... If it dies, it dies,'" Eastin explained. "So I went a couple of years with that, where there was always somebody kind of like, 'Hey, I read that thing, it's really good.' 'You want to make it?' 'No.'"
It wasn't until Bill McGoldrick, executive vice president of USA's original scripted programming, said that the network was looking for a show involving "beach cops," that "Graceland" was back in contention.
"He said, 'This is perfect for us.' So it was a weird case of me sort of trying to talk the network out of it," Eastin recalled. He warned USA that "Graceland" was too "dark" for the network's sunny brand, but the executives insisted that they wanted to explore a different kind of series.
"Ultimately, we sat down, and I kind of told them where it went and everything. They were like, 'We're on board.' True to that, they've been great throughout the process. I was worried they wouldn't let me be true to it and take it where I wanted, but so far, they've been a great partner in it," Eastin said.
The show's next challenge was casting the two male leads -- the untested but ambitious newbie, FBI agent Mike Warren, and the legendary Paul Briggs, who holds the record for the highest practical scores in the Bureau's final exam, and who happens to be Mike's idol.
"Les Miserables" star Aaron Tveit -- a Broadway mainstay with a resume including major roles in "Catch Me If You Can" and "Next to Normal" -- was tapped to play Mike. The actor said the role was immediately fascinating to him, and it became even more compelling over the course of his research. "The thing that I really found interesting is that after 9/11, the sheer amount of people who want to become FBI agents, specifically, has grown astronomically .. It used to be you didn't have to have a college degree to go to the FBI Academy, or maybe you just had an undergraduate degree, but now most of the candidates have at least one Master's and went to Ivy League schools. Since 9/11, they've gotten a lot more selective. So that was something really interesting for me to think about: How smart Mike really has to be to have succeeded at that level, [and] what type of people really go into this field ... It's a little darker than USA would usually go, but the word darker, I think, can be misunderstood. I like to think of it in the way that it's just realistic."

Daniel Sunjata -- another theater veteran, best known for his portrayal of firefighter Franco Rivera in FX's "Rescue Me" -- was equally enthralled by the character of Briggs, and the multifaceted nature of the "Graceland" script in general. "I really like Jeff Eastin's style of storytelling and the fact that I could tell that 'Graceland' was not going to be a procedural show, it was going to be serialized with plotlines that develop over the course of the season. As a television viewer and fan, that's the kind of TV that I like to watch, so I was excited about that prospect," he explained during a recent phone interview with The Huffington Post. "And then Briggs as a character is just very complex -- he's got lots of colors and dimensions and it's the type of role that most actors salivate over the prospect of playing. There was no downside."
Both actors were also reassured to discover that Eastin was a very collaborative writer, one who encouraged input from his cast when it came to developing characters' backstories. "This is the first serious role I've done, but I've worked on a lot of television shows, and the amount that we're allowed to give input for our own characters -- even on a day-to-day basis, shooting episodes -- it's awesome," Tveit enthused. "They really want us to put our stamp on it. I think that's a sign of a great writer, the fact that [Jeff] can write what he writes, but then he trusts us enough to do that, and he's not precious about his material."
Sunjata agreed, "[Eastin] is very open to collaborating with his actors. He definitely, throughout the course of the season, not just took my input but all of our input. If we floated a terrible idea, he would tell us very lovingly that it was a terrible idea, but if we happened to float a good idea, or something that added to the storytelling or our character in a substantive way, it was often incorporated. That makes you feel appreciated as an actor -- not just being asked to be an automaton and regurgitate words that are given to you."
(Broadway fans will be pleased to learn that in addition to incorporating ideas and backstory from the actors, Eastin is also "desperately trying to work in the fact that [Tveit] can sing.")
Eastin described the relationship between Mike and Briggs as the "heart" of the show, which superficially echoes the dynamic between FBI agent Peter Burke (Tim DeKay) and conman Neal Caffrey (Matt Bomer) on his other series "White Collar." But Tveit insisted that the two series are very different.
"Theirs is also a very complicated relationship, but I think on 'White Collar', their relationship is a little more black and white, because one is the FBI agent and Matt Bomer's character is a criminal," he said. "There's more gray area in our show because we're both on the same side of the law, but we're just going about it in different ways. So I think there's a lot of room there to do some fun stuff."
Eastin admitted that he didn't set out to create a show that was specifically different from "White Collar" -- it was just a happy coincidence. "A lot of people have asked me, 'Did you do 'Graceland' because you're frustrated with 'White Collar'? ... Most creators, if they do two shows, a lot of their shows feel similar ... It would be interesting if you showed [the 'Graceland'] trailer and a 'White Collar' trailer to somebody, if they would ever guess it was by the same person ... There was really no intent to do it that way. It's just that's the way it fell."
And while "the initial flavor of [Mike and Briggs'] relationship is mentor/mentee," Sunjata promised that "over the course of the first few episodes, it very quickly develops into something much more layered than that. And Briggs is not really excited about the prospect of having to train someone -- I think that's his initial reaction."
"I think they both have a lot to learn from each other," Tveit mused. "Briggs is basically the only person in the history of the FBI Academy who got higher scores than Mike, and what does that really mean? What I think it means, and what I think Daniel and I have both brought to it, is that these guys are really smart, and they're really good at what they do, and fast thinkers. So because they look at things differently, I think that they have a lot to learn from each other. My hope is -- and I don't even know where it's going to go -- I would like to see them find some kind of common ground, because then they could really be a great force for good."
Sunjata promised that there would be some "reciprocity" in the duo's dynamic sooner rather than later. "Really, intellectually, they're on par from the very beginning. The only thing that Briggs really has over Mike is field experience, and Mike catches on so quickly -- he learns the rules and then he starts, intelligently, breaking them when necessary. So within the first couple episodes, it becomes a dueling relationship of one-upmanship for the rest of the season, and Mike does absolutely end up teaching Briggs certain things about himself as well."
While the show's tagline is, "Your lies are your life," it's the dynamic between the disparate but loyal agents inhabiting Graceland that forms the core of the series. Alongside Mike and Briggs in the house are strong-willed FBI agent Catherine "Charlie" DeMarco (Vanessa Ferlito); quick-tempered US Customs agent Dale Jakes (Brandon Jay McLaren); intuitive and merciless DEA Agent Paige Arkin (Serinda Swan) and the jokester of the house, FBI agent Joe "Johnny" Tuturro (Manny Montana).
"What's really interesting, I think, is that being an undercover agent is a very, very tough world, and these people's lives are dangerous," Tveit observed. "The show is really neat because it shows this duality between this dysfunctional family life that we have at home, and then we step out into this real world where we're in real danger at all times. They play at each other, but I think it's also a very realistic look at what it means to be an undercover agent."
"Graceland" premieres Thursday, June 6 at 10 p.m. ET on USA.
PHOTO GALLERY
Summer TV Guide