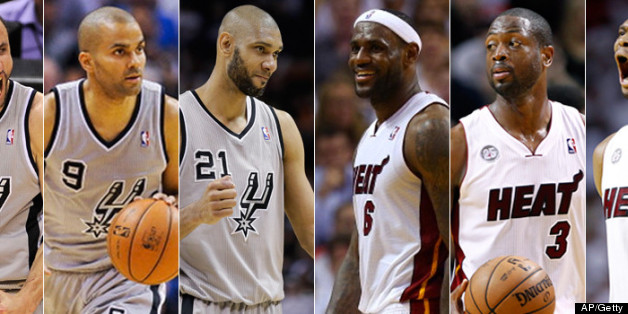 Miami Heat
vs.
San Antonio Spurs
AmericanAirlines Arena
Miami, Fla.
9:00 PM ET, June 6, 2013

The NBA Finals have arrived. Miami's Big 3 are back for the third year in a row and are set to face the older Big 3 of San Antonio.
LeBron James and the Heat steamrolled through their opening series and dispatched the Chicago Bulls in the second round in five games. It took them a full seven games, but the Heat managed to outlast the Indiana Pacers in the Eastern Conference Finals. Out West, the Spurs have been playing the waiting (and resting) game. San Antonio finished off the Memphis Grizzlies in a four-game sweep on May 27th. It was the second sweep of the postseason for the Spurs, who eliminated the Los Angeles Lakers in four games in the first round.
For each team's leader -- LeBron and Tim Duncan -- this will be the second time they meet in the finals. Back in James' Cleveland days, he took on Duncan's Spurs in the 2007 Finals and was swept. But this isn't the same LeBron and Spurs coach Gregg Popovich knows it.
"That was like ancient history. He was basically a neophyte at the time, wondering how all this stuff worked and how it's put together. We were very fortunate at that time to get him so early. But at this point he's grown," Popovich said, via the Associated Press.
Will the four-time MVP dominate in Game 1? Will he get help from Dwyane Wade and Chris Bosh? Will Duncan, a four-time NBA champ, help exploit Miami's lack of size down low? Will Tony Parker shred Miami's guards?
06/06/2013 11:47 PM EDT
How did the Spurs only turn the ball over four times? Pop - "I have no clue".

— Couper Moorhead (@CoupNBA) 3 years ago
06/06/2013 11:45 PM EDT
VIDEO: Parker's INCREDIBLE SHOT
You're going to want to watch this over and over and over again.
06/06/2013 11:41 PM EDT
LeBron's bizarre line: 18 pts, 18 rebs, 10 asts, 0 fouls

— chris palmer (@ESPNChrisPalmer) 4 years ago
06/06/2013 11:41 PM EDT
WHY IS CHRIS BOSH TAKING THREES? WHYHYWHYWHYHWYHWYHWYHGW????????

— Chris Joseph (@byChrisJoseph) 4 years ago
06/06/2013 11:39 PM EDT
Parker gets the key bucket off just before the shot clock, Bosh misses a three just after the final buzzer. Pretty much sums it up.

— J.A. Adande (@jadande) 4 years ago
06/06/2013 11:37 PM EDT
GAME OVER
Wade misses a shot in the paint and the Spurs take GAME 1, 92-88. Tony Parker. What a shot.
06/06/2013 11:36 PM EDT
That's Tony Parker's answer to the Derek Fisher shot in 2004.

— Shandel Richardson (@ShandelRich) 3 years ago
06/06/2013 11:35 PM EDT
STANDS
The refs rule it a good basket. Wow. Wow. Wow. 92-88 Spurs with 5 seconds left.
06/06/2013 11:33 PM EDT
What Just Happened???
Tony Parker just dribbled ALL OVER THE PLACE, lost the control, got it back, fell, got back up, shifted his body around LeBron and BANKED in a shot from the right wing as the shot clock expired. WOW. The replay looks VERY VERY VERY close.
06/06/2013 11:32 PM EDT
Free Throws
LeBron makes both free throws. 90-88 Spurs with 30 seconds left.