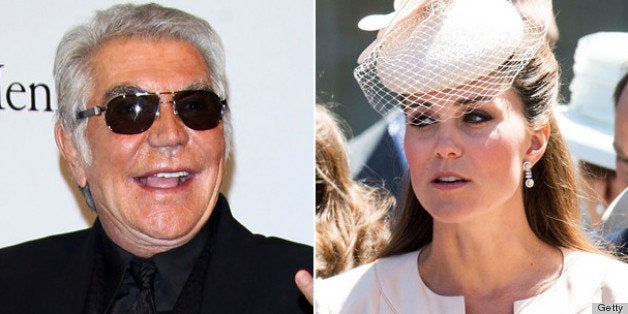 Even though Kate Middleton doesn't seem to be making many "sexiest women" lists, we doubt the duchess is sweating it too much. But that doesn't mean people will stop commenting on her sex appeal.
The latest public figure to muse on the royal's seductiveness? Roberto Cavalli. The fashion designer spoke to Vogue UK at his Harrods launch this week, and he had no problem giving his two cents on Catherine's look. Unsurprisingly, the man known for his high-impact slits and scandalous cutouts thinks the Duchess of Cambridge could use a little help -- from him:
"A princess should be sexy. She is young, she is beautiful -- I would like to create something special for her, but nothing too bold. I would like to prove to the world that Roberto Cavalli can dress a princess. Maybe I would use a print, keeping it young, sophisticated and sexy. Just because you are a queen or princess it doesn't mean you can't be sexy."
Ignoring the fact that it appears Cavalli thinks Kate is a princess, it seems Kate is walking a very fine line when it comes to pleasing both the masses and the fashion world. On the one hand, the Duchess Effect drives hoards of women to purchase every garment she steps out in (she's even crashed websites). On the other hand, the 31-year-old is often criticized for her picture-perfect, "plastic" appearance and low-risk style choices.
But since Cavalli's gone and reignited the debate, we'll put it to you: Is Kate Middleton not "sexy" enough?
You don't think this is sexy, Roberto?
PHOTO GALLERY
Kate Middleton's Style Evolution