On April 4, 1968, then-New York Senator Robert F. Kennedy gave a speech in Indianapolis, Ind., just hours after the death of civil rights leader Martin Luther King Jr. His address, given to a heavily African American crowd, urged peace and deliberation in the face of tragedy. It would become a resounding part of Kennedy's legacy, remembered Thursday 45 years after his death. Just two months later, RFK would meet a similar fate, his life taken by an assassin.
Below, a picture of the two icons taken in June 1963, when Kennedy was serving as attorney general. The quote is from his 1968 speech: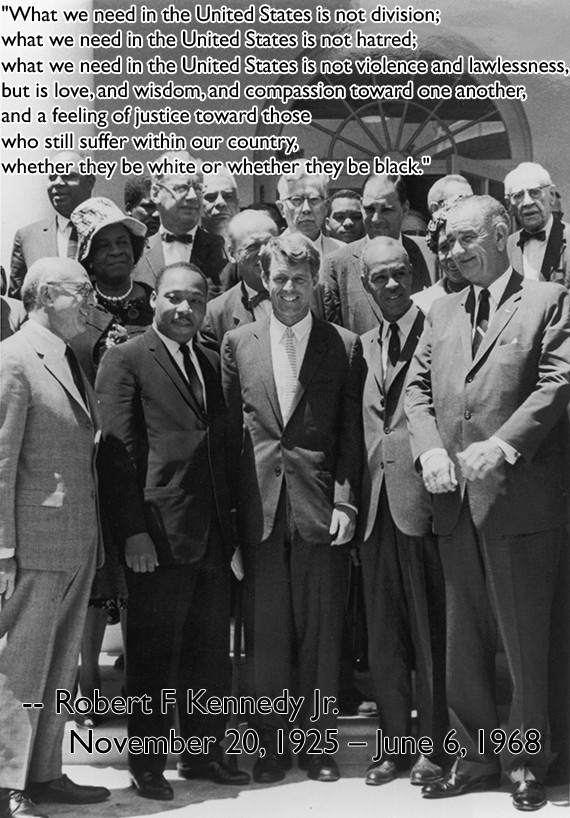 Left to right: Benjamin R. Epstein, National Director of the Anti-Defamation League B'nai B'rith, civil rights leader Martin Luther King Jr. (1929 - 1968), US Attorney General Robert F. Kennedy, Roy Wilkins of the NAACP and US Vice President Lyndon B. Johnson outside the White House. (Photo by Hulton Archive/Getty Images)
Correction: An earlier version of this post misstated the time between Kennedy's speech and his death.
BEFORE YOU GO
PHOTO GALLERY
Most Iconic Photos Of Obama's First Term