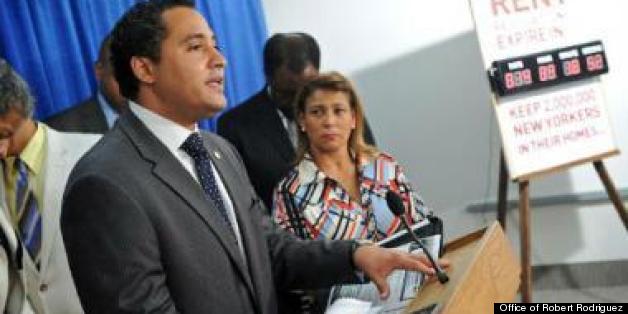 By Jeff Mays

HARLEM — East Harlem Assemblymen Robert Rodriguez was arrested and charged with driving while intoxicated after refusing a breathalyzer test early Tuesday morning just outside of Albany.
According to a police report from Colonie Police, Rodriguez, 37, was pulled over on Interstate 87 North outside of exit 5 for failure to stay in a single lane just after 2 a.m. Tuesday.
Once stopped, police noticed the odor of alcohol coming from Rodriguez as well as "watery blood shot eyes" and "slow speech."
Rodriguez failed a sobriety test and refused to take a breathalyzer test, according to the police report.
Chelsea Connor, a spokeswoman for Rodriguez from the Advance Group, said the Assemblymen declined the breathalyzer test because he wanted his attorney present.
Rodriguez was headed back to his hotel in Albany after watching the NBA playoffs with friends at a bar, said Connor.
"It's his first arrest ever. He apologizes to his constituents and he feels badly about the situation," said Connor.
Elected in 2010, the Yale-educated Rodriguez is the second consecutive person to hold the office to be arrested for drunk driving.
In 2010, former Assemblyman Adam Clayton Powell IV was found guilty of driving while impaired after a jury trial. He was charged with but acquitted of driving while intoxicated.
Rodriguez was issued a desk appearance ticket and is due back in court on Monday, June 10.