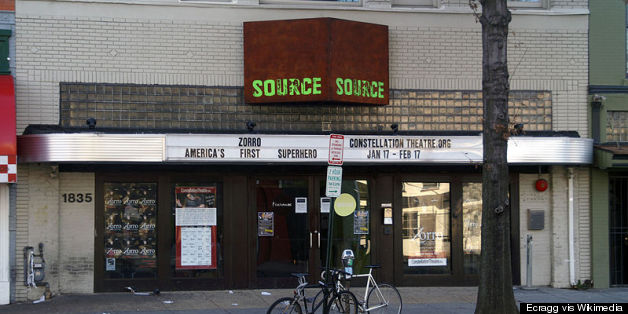 So you shlepped through the mud at Sweetlife Festival, waded through a seemingly endless number of tourists at the Cherry Blossom Festival and now you've got tickets to see some of your favorite musicians at the D.C. Jazz Festival.
"Gosh," you say, "But all I want is a festival that promotes the performing arts, doesn't include tourists, isn't affected by the weather and features over 20 performances."
What you may be looking for is the three week long Source Festival, which opens Friday, June 7, and features plays from all over the country.
The festival features three full-length plays for theater wonks, 18 10-minute plays for those with short attention spans and three blind date plays -- which CultureDC describes as program that "unites nine artists of varying disciplines to create three dynamic, new interdisciplinary works" that are presented at the festival.
CulturalDC has the rundown of all the performances:
Full-Length Plays

A Frontier, As Told By the Frontier
By Jason Gray Platt
Directed by Lee Liebeskind
Living in an abandoned amusement park, four children enact the origin myths that
founded their society and begin to wonder whether they have been led astray.

Lake Untersee
By Joe Waechter
Directed by Rick Hammerly
A teenager longs to leave his parents and their twisted relationships behind to find
Antartica's Lake Untersee — where someone is trapped beneath layers and layers of ice.

Perfect Arrangement
By Topher Payne
Directed by Linda Lombardi
Two gay couples marry other's partners and live next door to each other in a seemingly
perfect picture of 1950's domestic bliss. But when the US government focuses on a new
"threat" to national security, their perfect arrangement is in jeopardy.

10-Minute Plays

50 Guns
by Alex Broun
Directed by Ali Miller
50 lives. 50 stories. And one red gun.

A Unicorn on 7th and Nicollet
By Jessica Huang
Directed By Maureen Monterubio
Just what does it take to turn the world on with a smile?

Back Stock
By Jami Brandli
Directed by Maureen Monterubio
As a hurricane approaches a small coastal town, a young man discovers a mermaid in a
kiddy pool in the back of his late father's supermarket.

Cake
By Sherry Kramer
Directed by Maureen Monterubio
A man, a woman and their two Chihuahuas debate the scent of love.

Edward Cullen Ruined My Mother's Love Life
By Stephanie Walker
Directed by Megan Behm
The only thing scarier to 16 year old Lily than her mother's obsession with a fictional
teenage vampire is getting her drivers license.

First Stop: Niagara Falls
By Renee Calarco*
Directed by TBA
All Amy has ever wanted to do is go to Ibiza and have fun. Instead she has a baby. At
the office.

Frosty: a chilly tragedy with sexy bits
By Krista Knight
Directed by Kelsey Mesa
music by Barry Brinegar
He melted her heart, and then he melted.

Lost In Thought
By Christopher Lockheardt
Directed by Ali Miller
A man imagines the past, present and future of a former lover.

Minus You
By Jennifer Barclay
Directed by Megan Behm
Lennox can't find his wife Gracie in the neighboring burial plot, so he tries to reach her
through the crossed wires of the afterlife.

Pas de Deux for a Microwave Night
By Stephen Lewis
Directed by Joel David Santner
Two lonely souls find deceit, hope, Mongolian Barbecue and ballet on an online dating
site.

Pioneers
By Molly Hagan
Directed by Joel David Santner
A young couple imagines the world beyond the hospital walls as they pass the time in a
hospital waiting room.

Riot Grrrl Reunion
By Darin J. Dunston
Directed by Renana Fox
When a team of unruly roller derby girls arrive for the First Annual Riot Grrrl Rally, they
discover a boys basketball game in progress;and an unexpected opponent.

Reflections
By Jonathon Cook
Directed by Kelsey Mesa
A young girl with a supernatural power has disappeared, and it's not just her parents
who are left to wonder what might have happened.

Strangers on a Train
By Peter J Roth
Directed by Jacob Janssen
Two train passengers play a game of love, betrayal, espionage and murder.

Supplication
By David Robinson*
Directed by Jacob Janssen
In an attempt to figure out where his life went wrong, a man moves back into his
mother's uterus where he finds more than what he bargained for.

The Man in the Powder-Blue Suit
By Stephen Spotswood*
Directed by Renana Fox
A young woman remembers the moment her fractured family ran headlong into a man
hoping to save them from the end of the world.

The Return of the Living
By Eric Appleton
Directed by Joel David Santner
As a mummy rampages through their home, Devon and Audrey realize that the mummy
might not be the only one who has come to visit them from the afterlife.

With Her Old Boyfriend There Were Patterns
by Eric Pfeffinger
Directed by TBA
Jenna discovers how a previous boyfriend lays emotional land mines for her future
boyfriends to find.

*Local Playwrights

Artistic Blind Dates
Nine artists from different creative disciplines collaborate over six months to create an original work.

Group 1
Choreographer Ana Patricia Farfán, multimedia visual artist Megan Mueller and director/playwright Adi Stein

Group 2
Musician and composer Ethan Foote, performer and playwright Jack Novak and performance and visual artist Jane Claire Remick

Group 3
Director and playwright Angela Pirko, visual artist Cory Oberndorfer and dancer and choreographer Quinn Johnson
For the date and times of all the shows, check out Source's schedule. Tickets are on sale now and start at $10.
BEFORE YOU GO
PHOTO GALLERY
Best D.C. Movie Theaters