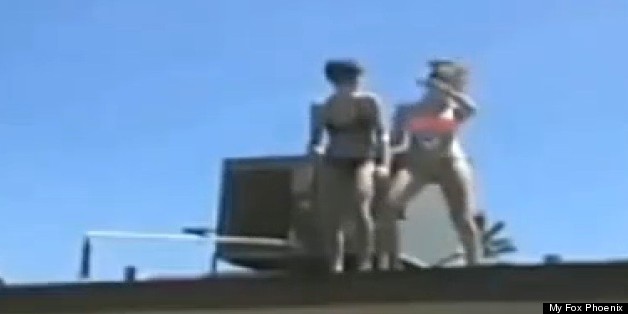 A cringe-worthy video captured a 19-year-old breaking both of her feet in an attempt to jump from her roof into a backyard pool. But Nicole Easton wasn't the only one hurt by the ill-advised leap last month.
Critics jumped all over her mother who set up an online fund to raise money as Easton recovers from shattered bones.
"I'm accused of being a beggar, bad parenting, horrible things," Carrier Yunker said to station KGW.
The page Yunker set up on the fundraising site gofundme.com included the video of her daughter's painful crash landing onto concrete, inches short of the Arizona swimming pool.
Easton, in a pink bikini, was clearly reluctant to attempt the jump with a friend. The other young woman safely splashes into the water, but Easton comes up short and lets out a blood-curdling wail before the video cuts out.
Donors chipped in $1,690 through this morning to Nicole's Recovery Fund towards the goal of $4,200. Some of the money is for medical expenses, but a portion would cover Easton's food and household bills, because she's unable to work.
Along with the well-wishers, however, have been vocal naysayers hounding Yunker for asking others to pay for Easton's blunder.
"So we're supposed to feel sorry for your daughter doing something stupid?" one commenter wrote, the Australian reported. "If anything, no one should donate and this will serve as a lesson for your daughter. She's supposedly an adult now and she'll have to pay the consequences for her stupidity."
Yunker removed the video following the criticism, but the fund is still open.
For the next six months, Easton will be in a wheelchair, KNXV reported. She plans to schedule surgery soon for her shattered heels.
BEFORE YOU GO