Two years ago, Rochelle Behrens solved an age-old problem. She invented a button-down shirt that didn't 'gape' at the chest, eliminating those awkward/revealing gaps that sometimes show up between buttons on women's blouses.
The 30-year-old former D.C. lobbyist launched a company, called The Shirt, to sell the shirt. But there was a problem. At $132 to $198 a pop, the gape-free shirts solved one dilemma and created another: not everyone could afford them.
Now Behrens is turning to Kickstarter to make a cheaper top -- complete with a viral video ad. Behrens is hoping to make her #nogape shirts accessible for more women with a less-expensive collection offered exclusively online.
The campaign has raised around $7,500 of its $25,000 goal, with 18 days remaining. That amount will fund a web-only collection of shirts for $60 to $75 each, "eradicating blouse-gape from the closets of women everywhere," according to the Kickstarter page.
Here's how the shirts work: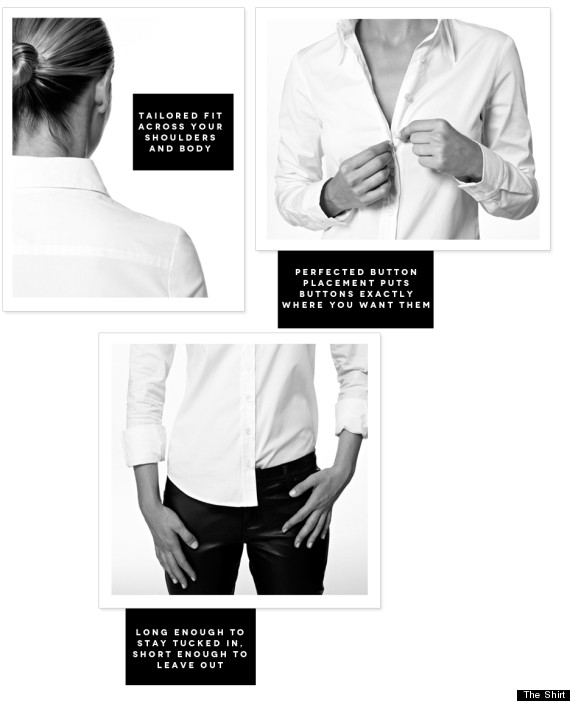 "I wanted to make the most perfect shirt I could with the first collection, and I think we've done that," Behrens told The Huffington Post in a phone interview. "But I also want everyone to have the opportunity to wear something that makes them feel wonderfully."
Just how wonderfully, however, may be up for debate. A sample of the cheaper shirt sent to Mashable didn't breathe as well as the pricier version and also didn't look as "expensive," according to the website. But it was cut in the same way, featuring the fuller coverage the shirts are famous for.
Part of the beauty of Kickstarter, Behrens says, is the opportunity it gives her burgeoning company to raise funds before committing to the production of a whole collection. Since this line of shirts will be sold only online, she added, it's fitting that it begins with online crowdfunding.
But even if this campaign falls short, Behrens says she's committed to getting more women to live gape-free.
"As an entrepreneur, you find another way to do what it is you want to do," she said.
(Hat tip: Mashable)
BEFORE YOU GO
PHOTO GALLERY
World's Most Powerful Women In 2013: Forbes