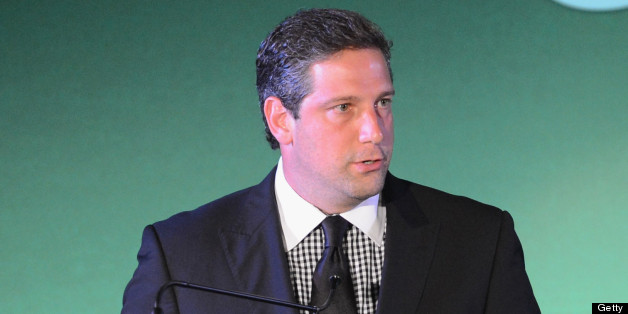 Before taking the stage Thursday at The Huffington Post's women's conference dedicated to redefining success beyond the male-dominated model of sleep-deprivation and burnout, a thought struck Rep. Tim Ryan: "Maybe there needs to be one of these for men."
Ryan, an Ohio Democrat, was raised Catholic with "an appreciation of the contemplative life." Later in life, flirting with meditation, he realized "the power of my mind and my body being in the same place at the same time." He developed a daily routine of unplugging from his devices and doing breathing exercises, whether at home, in the car, or between meetings. In March, he published a book called A Mindful Nation: How a Simple Practice Can Help Us Reduce Stress, Improve Performance, and Recapture the American Spirit.
Ryan also began to wonder how practices working for individuals might be implemented at the policy level. For example, he wants to see the Department of Veterans Affairs adopt a more holistic approach to treating soldiers, extending its range of services to include mindfulness, nutrition and meditation. In addition to benefiting from these practices, Ryan says, veterans are uniquely able to persuade skeptics that these practices are effective, for men as well as women. And not just veterans returning home from the country's current wars.
"As a society, when you start looking at a vet who was in Vietnam -- for example, a 65-year-old white male, a hunter, an American man -- when you hear him say, 'I've done meditation and it's helped me tremendously to let go of things I've been carrying for years,' that's powerful. Are we going to wait 40 years for the Iraq and Afghanistan vets, or are we going to help them now?"
Ryan is heartened by the fact that the military has already embraced some practices. And his retort of choice to skeptics -- especially men who may be inclined to view certain practices as girly -- goes something like this: "If this is so soft and mushy, go talk to the United States Marines Corps."
Ryan's panel, titled "Do Men Get It?" included two men he believes can help convince other men who may doubt the manliness of meditation: actor Adrian Grenier and "Morning Joe" host Joe Scarborough ("a cool, pragmatic guy who watches Alabama football").
As for that men's conference, Ryan said, "Maybe George Stephanopoulos, or some of these guys, need to put one together.