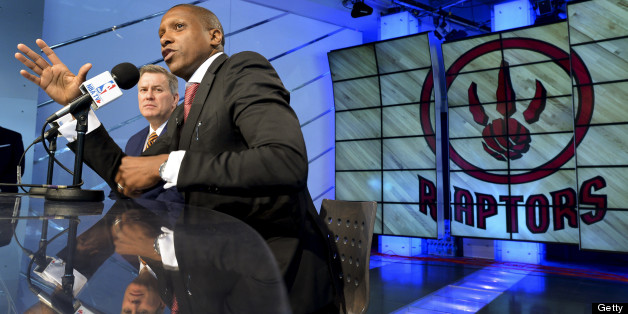 Are the Toronto Raptors considering a name change?
During a recent chat with the media, new franchise CEO Tim Leiweke hinted that this may indeed be the case.
"We're definitely going to take a look at it," he told reporters Tuesday when quizzed about a possible name switch, according to the National Post. "It doesn't mean we're committed to it. It means a good conversation. I saw those generic uniforms today in the paper… That won't be the uniform, by the way. I can assure you of that. I think we need to have this conversation."
If the Raptors -- whose name was partly inspired by the '90s film classic "Jurassic Park," according to sports writer Eric Freeman -- did change their moniker, they wouldn't be the first NBA team to do so in recent months.
In April, the New Orleans Hornets became the Pelicans, allowing the Charlotte Bobcats to regain their former name. Last month, the Bobcats announced that they are in the process of formalizing a name change: the Charlotte Hornets are set to return in the 2014-15 season.
If the Raptors did choose to change their name, what new options would you recommend? Tell us below.
BEFORE YOU GO