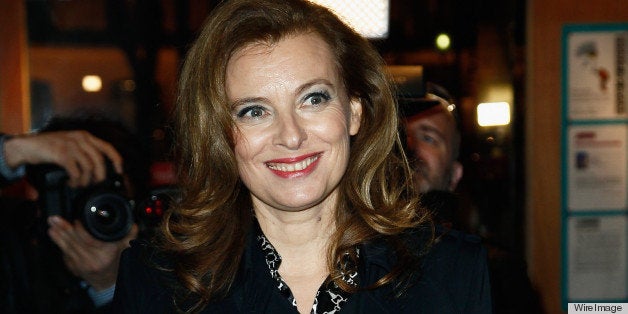 The French "first lady" sued La Froundeuse authors Christophe Jakubyszyn and Alix Bouilhaguet and editor Yves Derai for infringement of privacy after reading their juicy account of her alleged relationships with both President Franᅢᄃois Hollande, a socialist, and conservative politician Patrick Devedjian. On Wednesday, Trierweiler was awarded €10,000 by the Tribunal de Grande Instance in Paris.
La Frondeuse (meaning: rebel or troublemaker) asserts that the 48-year-old's political dalliances occurred simultaneously -- and while she was still living with her husband, no less. Both authors have said that the account is an "honest investigation" meant to illustrate "the overbearing closeness between politicians and political journalists" in France (Trierweiler wrote for Paris Match during this time.)
This is Trierweiler's second legal win in the past year, since she successfully took French magazines Voici and Closer to court over bikini photos of her they had published. But the "first lady" isn't done with the courts just yet. She's still seeking €40,000 in damages from the La Frondeuse authors and editor for defamation. Yah, our money is on "The Rottweiler."
The first lady in action:
PHOTO GALLERY
Valerie Trierweiler's Style