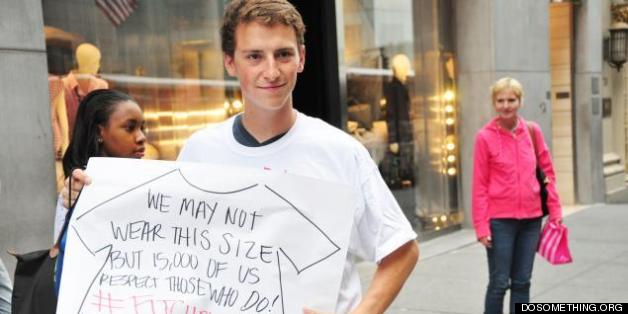 A group of protesters wearing XXL T-shirts stormed an Abercrombie & Fitch store in New York on Thursday to urge the company to carry sizes for all body types.
Though Abercrombie issued an apology since it came under fire for a resurrected inflammatory interview, body image advocates are not satisfied. Back in 2006, CEO Mike Jeffries admitted his company is "exclusionary," and DoSomething.org, a nonprofit that encourages teens to volunteer, has launched a campaign pushing Abercrombie to make plus-size clothes and protested at the flagship store in Manhattan to drive the point home, the New York Daily News reported.
"We don't think being cool depends on what size you are," Colleen Wormsley, marketing associate for DoSomething.org, told the paper. "All kids should be considered cool no matter what their size. These are Abercrombie's target market."
In addition to protesting while wearing their homemade XL and XXL T-shirts, the group of about 30 activists was also celebrating having neared their signature goal for a petition that's pushing Abercrombie to sell clothes for every type of customer.
"We were representing over 15,000 young people who signed the DoSomething.org petition against Abercrombie & Fitch CEO Mike Jeffries' disrespectful comments that shamed plus-size teenagers," DoSomething CMO Naomi Hirabayashi said in an email to The Huffington Post.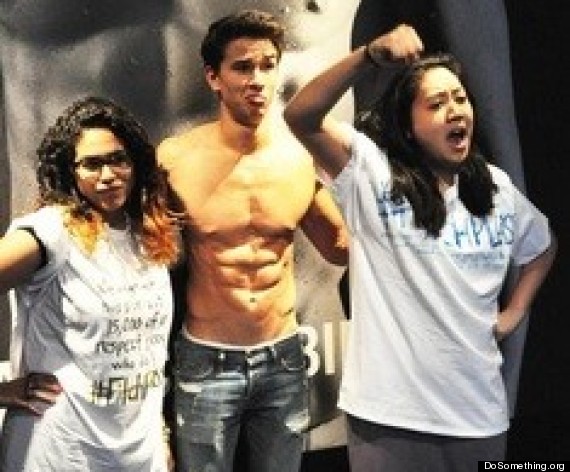 Photo: DoSomething.org
The nonprofit hopes to collect 25,000 signatures altogether.
"While competitors like H&M and American Eagle offer plus-size and XL clothing for females, Abercrombie's CEO seems OK excluding people who aren't skinny," the nonprofit wrote in its petition. "Besides Jeffries being a complete jerk, his discriminatory attitudes are reflected in A&F's size assortment. Anyone else mad about that?"
DoSomething is just one of a number of groups of young activists who have voiced their opposition to Abercrombie's insistence on going after "the cool kids."
Benjamin O'Keefe, an 18-year-old who launched a Change.org petition urging the company to make clothes for all, organized a meeting with executives at the company's Columbus, Ohio headquarters in May, People.com reported. O'Keefe, who has overcome an eating disorder, rallied members from the National Eating Disorder Association to join him.
O'Keefe's petition has collected more than 75,000 signatures and the company offered up an apology after their meeting.
"We look forward to continuing this dialogue and taking concrete steps to demonstrate our commitment to anti-bullying in addition to our ongoing support of diversity and inclusion," Abercrombie said in a statement last month. "We want to reiterate that we sincerely regret and apologize for any offense caused by comments we have made in the past which are contrary to these values."
BEFORE YOU GO
PHOTO GALLERY
Nonprofit Protests Abercrombie & Fitch In XXL T-Shirts