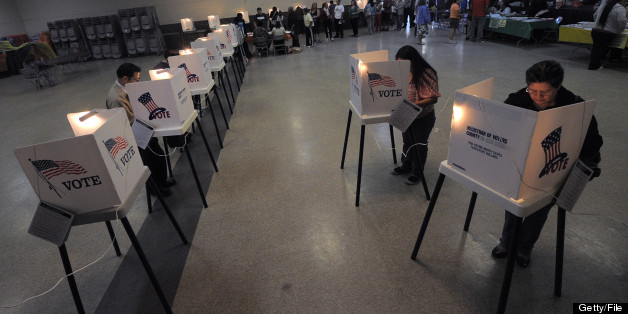 The immigration debate in Congress will likely sway the way Latinos vote, a new poll says.
Some 45 percent of Hispanic voters say they would be more likely to vote for a Republican who takes a leading role in passing immigration reform with a path to citizenship, the Latino Decisions poll released Thursday found. The figure for Democrats was even higher, at 63 percent.
The poll adds to a running debate over whether politicians should focus on immigration or jobs and the economy when appealing to Hispanic voters. Polls show that Latinos are more concerned with having a job than immigration policy, but at the same time the contentious issue of immigration reform unites the community and immigration hardliners tend to turn off Latinos.
"There's a huge potential to move and sway the Latino vote based on this issue," Latino Decisions pollster Matt Barreto told the Salt Lake City Tribune. "If this sort of ratio holds, this will be bad news for the Republican Party."
The poll also found that most Latinos do not favor prioritizing border security over carving out a pathway to citizenship for the 11.1 million undocumented immigrants in the country. Some 13 percent rejected the approach, with 81 percent saying immigration reform should focus on the pathway to citizenship and border security simultaneously.
Many Republicans downplay the importance of immigration. Last year's GOP presidential candidate, Mitt Romney, put that concept at the core of his message to Latinos, while simultaneously adopting strident anti-immigration positions aimed at shoring up his GOP base.
The strategy failed to win over Latinos. Hispanic voters supported Obama's reelection by 71 to 27 percent, leaving Romney with the poorest performance among Latinos since Bob Dole's failed 1996 run.
Many observers point to Romney's immigration positions as the major reason for his flop among Hispanics, but House Republicans are doubling down on the strategy.
On the same day of the poll's release, the House of Representatives passed an amendment proposed by Iowa Republican Steve King aimed at ending prosecutorial discretion for deportations. If the amendment were to become law, it would push the federal government to deport more people brought here illegally as children, most of whom are currently exempted under the Obama policy called Deferred Action for Childhood Arrivals initiated last year.
The Obama administration has used prosecutorial discretion to focus the agency's resources on people with criminal records, though the administration has also set records for deportation, topping 409,000 last fiscal year.
King's amendment passed along partisan lines, with just six Republicans opposing it and only three Democrats supporting it.
The measure is not likely to pass the Senate. The White House made clear in a statement released shortly after the vote that President Barack Obama would veto the measure if it were to clear Congress.
The vote does not auger well for a bipartisan immigration reform proposal being debated in the U.S. Senate.
BEFORE YOU GO
PHOTO GALLERY
6 Misconceptions About The Border