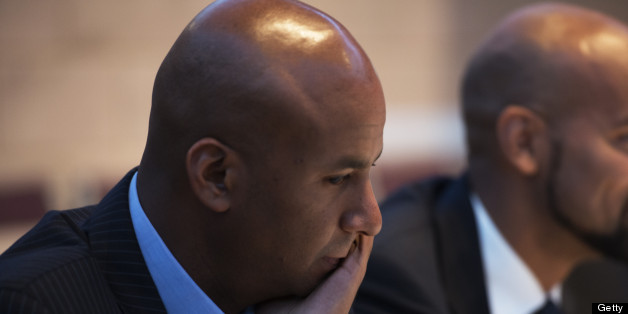 Former D.C. Councilman Michael A. Brown will plead guilty to federal corruption charges say friends and supporters, according to the Washington Post.
The charges against Brown, who lost a reelection bid in November and dropped out of an April special election to fill a seat vacated when Phil Mendelson was elected as council chairman, stem from an FBI sting that allegedly caught Brown accepting a bribe.
The Associated Press has a rundown of the official charges:
According to the charging document, Michael Brown "directly and indirectly, corruptly demanded, sought, received, accepted, and agreed to receive and accept things of value personally, to wit, fifty-five thousand dollars ($55,000.00) in cash from respresentatives of Company M, whom unbeknownst to defendant BROWN were undercover employees of the Federal Bureau of Investigation..."

According to the charging document, Brown, who was a councilmember at the time, did so ..."in return for being influenced in the performance of an official act, to wit, offering to provide and providing official assistance to Company M to obtain approval as a Certified Business Enterprised from the District of Columbia's Department of Small and Local Business Development and contracting opportunities..."
The official documents charging Brown note that the bribery took place between July 11, 2012 and March 14, 2013. Brown's term ended on January 2, 2013 and the documents say he was a public official at the time of the sting, so it may be safe to say the bribery took place in 2012 or in the first couple of days of 2013.
Brown, who will become the third former or sitting D.C. councilmember to face federal charges since January 2012, made clear his intentions to plead guilty Thursday night in calls to supporters and friends, according to the Washington Post -- but told his supporters he did not believe he had taken a bribe:
Brown, they said, described being approached while in public office by a group of businessmen seeking to become a "certified business enterprise" — a D.C. government program that offers contracting preferences to small, local, woman-owned or minority-owned businesses.

Eligibility is determined by the city's Department of Local and Small Business Development and can be a slow and onerous process. In the course of their dealings, Brown said, he accepted payments from the businessmen, whom he later discovered were federal agents.

Brown, the son of the late Commerce Secretary and Democratic National Committee Chairman Ronald H. Brown, described the transaction as a "loan arrangement" but said that federal prosecutors saw the matter differently, "as a bribe or gratuity," Brannum said.
"He argued he did not commit a crime, but he entered into something he should have known better," Robert V. Brannum, a local Brown supporter, told the Washington Post.
BEFORE YOU GO
PHOTO GALLERY
District of Columbia Nov. 2012 Elections