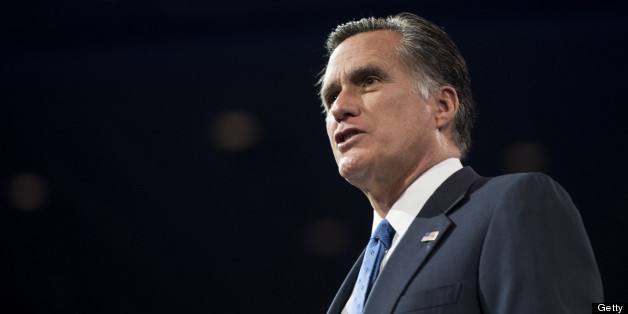 Once upon a time, Mitt Romney probably really was the future of the Republican Party. But the further he moved into the future, the more the Republican Party didn't want him talking about the things that made him so darned futuristic, like his landmark health care reform law (which earned him a a spot at the "Go Ahead And Run For President" table). Instead, Romney's "future" became having to run away from his major legislative accomplishment. And then later, his "future" became losing the presidential election. And then he went on some rollercoasters.
But in recent weeks, Romney has been trying to put all of this behind him and once again try to be a force in the future of the Republican Party. In an interview with The Wall Street Journal, the "restless" and "wistful" Romney announced that he was "considering writing a book and a series of opinion pieces" and planning on campaigning for candidates in the 2014 election cycle.
But as a first step, Romney was going to "welcome 200 friends and supporters to a three-day summit," which is going on right now in Park City, Utah. Per The Washington Post's Jason Horowitz (who the Post shrewdly sent along in case Romney got up to any adventures in barbering), Romney's Experts and Enthusiasts 2013 conference is basically a retreat for people who want to do business with Solamere Capital -- the private equity firm co-founded by Romney's son Tagg -- and people who want to hobnob with political figures.
According to Horowitz, the whole affair has been "characterized" as "Romney's own Aspen Ideas Festival, a significant step in his return to public relevance and proof of his political clout."
Political celebrities on hand include many of the presumed 2016 presidential aspirants like Paul Ryan and Rand Paul. Additionally, there was "synergy" between the political idea-havers and the Solamere Capital wanters. New York investor Anthony Scaramucci arranged some words in this order and called it a sentence: "There was a micro business thing — Solamere; a macro business thing — managerial leadership."
(Also, former CNN anchor Campbell Brown taught a yoga class.)
As Horowitz reports, Romney's keynote address to his conference was "closed to the media." But Romney did give one interview to CNN, in which he pondered what might have been:
"I wish the hurricane hadn't have happened when it did because it gave the president a chance to be presidential and to be out showing sympathy for folks," Romney told CNN, referencing Hurricane Sandy. "But, you know, you don't look back and worry about each little thing."
Well, I know Romney is no "numbers guy," but the good news is that according to the relevant data, Hurricane Sandy wasn't a deciding factor in the 2012 election. So Romney can just go back to wishing that it hadn't happened because it destroyed thousands of lives.
[Would you like to follow me on Twitter? Because why not?]
BEFORE YOU GO
PHOTO GALLERY
Mitt Romney, Regular Guy