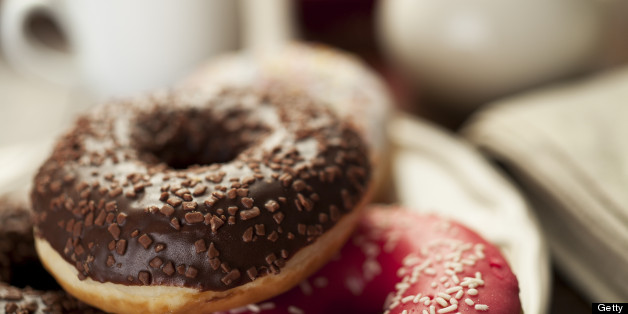 Today is the 76th annual National Donut Day, during which several franchise and local shops are handing out free goods for a good cause.
If you're waiting in line for some free fried dough this Friday, just remember that there is more to do than debate the spelling of the word and your personal donut preferences. Because while at least a baker's dozen shops are giving out free donuts, many are also asking you to participate in their larger charity initiatives.
For the third consecutive year, Entenmann's is not only handing out free donuts but is also donating $1 to The Salvation Army for every like it gets on its Facebook page. According to The Salvation Army's donut page, Entenmann's has decided to turn over up to $30,000 to the Salvation Army, an increase from last year's $25,000 donation, reported by NBC New York.
According to its website, LaMar's Donuts, a national chain, will also raise funds for various Salvation Army locations. Not only is the business asking for contributions from customers, but it's also turning over some of this week's proceeds to The Salvation Army Oklahoma Relief fund.
"The Oklahoma disaster reminds us that all Americans have an ongoing responsibility to help neighbors suffering misfortune," Matt Joslin, LaMar's COO, mentions on the company's website.
The Salvation Army's donut connection dates back to 1983, when the humanitarian organization started the movement to "honor the women who served donuts to soldiers during World War I."
In addition to Entenmann's and LaMar's, ABC news reports, Krispy Kreme, Dunkin' Donuts, and Tim Hortons are all participating in National Donut Day.
BEFORE YOU GO
PHOTO GALLERY
15 Sexiest Doughnuts