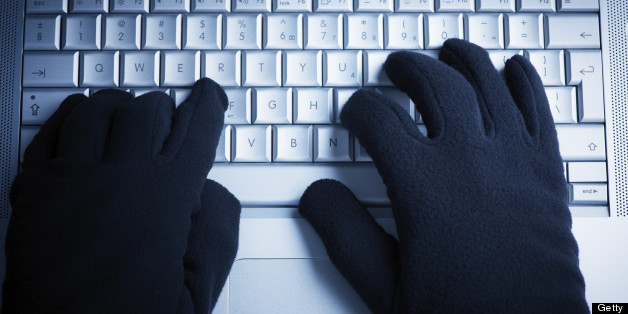 Polls show that while Americans have little expectation of privacy about their phone records and online data, they're wary of growing government surveillance. Polls did "herd" in 2012, but why? And hell hath no fury like Ed Tufte reviewing ugly Powerpoint slides. This is the HuffPost Pollster update for Friday, June 7, 2013.
POLLS SHOW LOW EXPECTATIONS OF PRIVACY - Following revelations that the National Security Agency is collecting domestic phone records and electronic communications, the National Journal shared new survey results showing that Americans assume that their "communications history" are more prone than "other forms of personal information" to access without their consent: "In the poll, 85 percent of adults surveyed said it was likely that their 'communications history, like phone calls, e-mails, and Internet use,' was 'available for businesses, government, individuals, and other groups to access without your consent.' That was a higher percentage than believed that any other kind of private information, such as medical and financial records, is being obtained without their approval." [National Journal]
Most not anxious about government monitoring - Citing similar data, GWU political scientist John Sides is skeptical that a backlash against domestic surveillance is brewing: "For one, most Americans do not express much anxiety about domestic surveillance. In a recent article (gated), political scientists Samuel J. Best, Brian S. Krueger, and Shanna Pearson-Merkowitz reported the results of a 2007 survey in which they explicitly asked whether Americans were anxious, worried, or scared about "the government monitoring the activities of people like you." Only about 30% of Americans said that they were "somewhat" or "very" anxious, worried, or scared...What would create more of a public anxiety would be a concerted pushback from Congress against the NSA, and especially a bipartisan pushback. As I wrote regarding drone attacks, real public concern about civil liberties is most likely to arise when elected leaders express concern. But instead of a bipartisan pushback, I am seeing more evidence of a bipartisan shrug." [The Monkey Cage]
Washington Post polling director Jon Cohen: "65% not worried about others knowing what websites they visit." [@jcpolls]
Yet also little enthusiasm for expanded monitoring, concerns about going too far - The new National Journal poll asked respondents about potential steps to "to improve national security." Only 10 percent supported "expanded government monitoring of cell-phone and e-mail activities. Similarly, a CNN/Time/ORC poll conducted in April found far more opposition (59 percent) than support (38 percent) for "expanded government monitoring of cell phones and email, to intercept communications." The same survey found Americans more concerned that "the government will enact new anti-terrorism policies which excessively restrict the average person's civil liberties" (61 percent) than " that the government will fail to enact strong, new anti-terrorism policies" (31 percent). It also found, by a 49 to 40 percent margin, that Americans are not willing "to give up some civil liberties if that were necessary to curb terrorism in this country." [CNN]
WATCH OUT NSA: ED TUFTE HATES YOUR POWERPOINT SLIDES
:
Dreadful spy-PRISM deck sets new record for most header logos per slide: 13 washingtonpost.com/wp-srv/special… #powerpoint #ppt twitter.com/EdwardTufte/st…— Edward Tufte (@EdwardTufte) June 7, 2013
List of spy-PRISM collected information includes nearly everything, except PPT decks. No useful information at all? twitter.com/EdwardTufte/st…— Edward Tufte (@EdwardTufte) June 7, 2013
PRISM "providers": classic PPT statistical graphic: 13 logos, 10 numbers, 9 bubbles, 1 giant green arrow. #powerpoint twitter.com/EdwardTufte/st…— Edward Tufte (@EdwardTufte) June 7, 2013
POLLSTER 'CONVERGENCE' IN 2012 - On Wednesday, we reported on some recent speculation and debate about pollster "herding," or the theory that some pollsters weight their results to fall into line with polling averages, particularly late in the campaign. Steve Koczela, who leads the MassINC polling group, emailed with a few charts showing that pollsters did indeed herd together toward the end of campaign 2012. Using data downloaded from Pollster, Koczela calculated the standard deviation in the Obama-Romney margin for polls conducted during each month of 2012. The number shows the degree of variation in the results. Sure enough, the range of variation declined throughout the summer and fall and then plunged in October.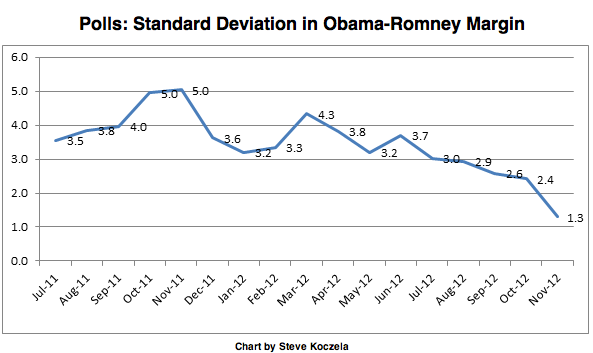 Since there were far more polls in October, Koczela also calculated the same statistic by week for the last seven weeks of the campaign. The first week in November has a lower standard deviation (1.4) than any of the last 12 weeks.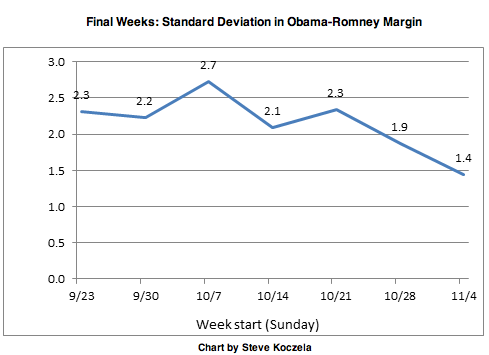 But what does it mean? As Koczela points out via email, "it is hard to separate potential herding from the greater precision that becomes possible as election day approaches." The pattern of poll results tending to converge late in the 2012 campaign is similar to what David Moore found in looking at national polling conducted in October 2008, a phenomenon that he labeled "the Convergence Mystery." Moore's post drew replies from survey "experts" published later in the online journal Survey Practice, all of whom voiced skepticism that the pattern signaled intentional modification of results to come into line with other polls. Perhaps the most compelling explanation echoes Koczela's point. Rutgers University political scientist Cliff Zukin: "Absent some major occurrence in the campaign, one would expect citizens to become more certain about their behaviors the closer it gets to election day-both in whether and for whom to vote." [Pollster.com, Survey Practice]
Have something to add to the Pollster Update? Send tips/quotes/stories/charts/new data/juicy miscellanea to Mark Blumenthal (mark@huffingtonpost.com) or Ariel Edwards-Levy (Ariel.Edwards-Levy@huffingtonpost.com).
ATTITUDES TOWARD FEMALE BREADWINNERS DON'T REFLECT NEW REALITY, DEM POLLSTER ARGUES Margie Omero: "Pew notes about two-thirds (65 percent) of moms of children under six work outside the home. Gallup routinely shows a majority of women would prefer to work outside the home rather than stay at home to raise children, "if they were free to do either." Yet Pew shows a slim majority (51 percent) feel children are "better off" with a mom at home full-time, and about a third (34 percent) say children are "just as well off." However it is men who are largely driving this result. By two to one, men say children are better off with a mom at home (57 percent better off, 29 percent just as well off). The margin among women is in single digits (45 percent better off, 38 percent just as well off). So it's not just Republican leaders who have more traditional views toward gender equality -- it may be men as a whole. As families and the workforce change, many men's views are not changing in kind." [HuffPost]
CLINTON'S FAVORABILITY DROPS HuffPost: "Hillary Clinton's favorability rating dropped 12 points since last year, according to a Bloomberg poll released Thursday night. Fifty-eight percent of those polled by Bloomberg now view her positively, down from a high of 70 percent in December. The former secretary of state's rating is still relatively high. HuffPost Pollster's average, which combines all publicly available polling, shows that a 52 percent majority views her favorably. But that's down from the nearly 60 percent she enjoyed in November, and lower than the rating was during her tenure as secretary of state....her numbers are now closer to where they were at some points during 2008. Clinton continues to dominate early 2016 polling. HuffPost Pollster shows her taking an average 61 percent of the Democratic primary field, with Biden, her closest rival, more than 50 points behind." [HuffPost]
FRIDAY'S 'OUTLIERS' - Links to more news at the intersection of polling, politics and political data:
--58 percent of Americans disapprove of President Obama's handling of the IRS situation. [Gallup]
-More Americans see China as friendly than unfriendly to the U.S. [Gallup]
-NYC mayoral candidate Bill Thompson doesn't believe the polls, thinks someone could win without a runoff. [Capital New York]
-Nate Cohn sees little hope for Gabriel Gomez in Massachusetts. [TNR]
-Chris Cillizza and Sean Sullivan consider the end of the political fight and continuing cultural divide on gay marriage. [WaPost]
-First Read compiles their polling on favorability for 2016 Republican hopefuls. [NBC]
-Ron Brownstein explains why Republicans could win in 2014 "without solving any of the underlying demographic challenges that threaten them" in 2016. [National Journal]
-Republican pollster Robert Blizzard argues that winning over young voters to the GOP means "fixing the party's problems with Hispanics." [POS]
-Brookings posts the video of its panel on the Politics of Marijuana Legalization, featuring Sean Trende and Anna Greenberg. [Brookings]
-Taren Stinebrickner-Kauffman says, "you know nothing, campaigners." [YouTube]
-Anthony Wells provides a British perspective on Gallup's methodology review. [UK Polling Report]
-Bob Blaemire explains how voter files have become the "big data" of modern campaigns. [Campaigns & Elections]
-RTI evaluates video interviewing via Skype. [SurveyPost]
-HUD is redesigning the American Housing Survey. [HUD User]
-Justin Wolfers uses Twitter to graph payroll growth over the past year. [@JustinWolfers]
-Mapping the rise of craft beer with interactive geospatial data. [New Yorker]
-Hans Rosling uses legos to explain population growth and climate change. [Flowing Data]