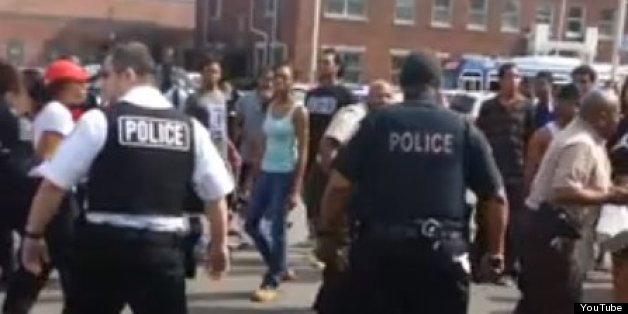 The last day of school was anything but a calm affair at Proviso East High School in suburban Chicago after 10 arrests were made following a massive fight.
More than 300 students poured into the street outside the Maywood high school with dozens getting into brawls that sapped the resources of at least five surrounding law enforcement agencies, NBC Chicago reports.
"There were 300 or more kids involved and many of those kids were involved in the fight or egging it on," said Maywood Police Chief Tim Curry.
Much of the melee was caught on cell phone video later uploaded to YouTube:
(Scroll down to view video uploaded to YouTube of the incident. WARNING: Some readers may find the video disturbing.)
Curry confirmed Thursday ten students were arrested, including a girl wielding two chef's knives who had been previously knocked down and stomped by other students, according to the Forest Park Review.
The fights got underway around 9:30 a.m. on May 31, starting in the school's parking lot, according to ABC Chicago. Police said the last day of school's early dismissal caught police off-guard and consumed local law enforcement for hours. Meanwhile, the school is claiming the fight took place more than a mile away from the school and that adults and former students were also participants in the brawl.
Some students were charged with obstructing the police or disorderly conduct for failing to disperse after police tried to clear the fight. Officials are also investigating whether the fight was spontaneous or planned through social media.
"Every day the Maywood Police are trying to control other people's children," Curry said. "At some point parents have to come and say 'these are our kids and our responsibility.'"
BEFORE YOU GO
PHOTO GALLERY
School Bullying Incidents