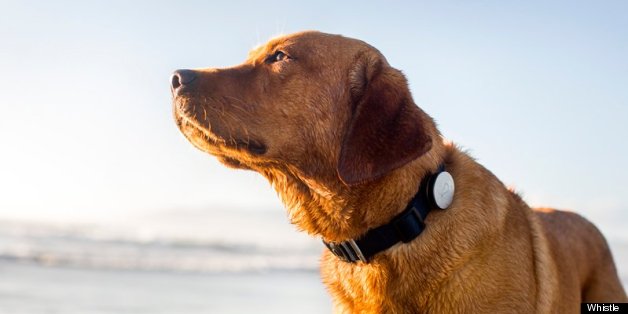 Ever wonder what your dog does all day while you're at work? Does he sit around on the couch too much? Is the person you're paying to walk him taking long strolls or cutting corners with a quick turn around the block?
That's exactly the kind of information a San Francisco-based start-up called Whistle plans to offer pet owners with its new dog collar.
"For animals, the best indicator for their health is their own activity relative to their baseline," said Whistle's chief executive Ben Jacobs.
Through an accelerometer, the collar collects data about your dog's various movements and relays it to your iPhone. Priced at $99.95, the collar can distinguish among different doggie activities like running, walking or playing. Data insights, like how many minutes your dog ran, are then shared to your iPhone (an Android-compatible version will be coming soon).
Because the Whistle collar collects data consistently, it works in part by offering an accurate idea of your dog's average day. If the dog starts to deviate from the norm -- say by not running around as much or having restless nights -- that may be a sign something is off and it's time to see the vet.
"If you have a dog that typically sleeps soundly and all of a sudden starts to get up in the middle of the night and moves around ... that's the kind of micro-signal we can alert you to," said Jacobs.
But having specifics about your pet's movements and routine is only part of the equation. Jacobs noted that the collar data can also help determine how active a pet is compared to its peer group. If you own a 4-year-old English bulldog, for example, Whistle's comparative data can show how active your dog is, relative to others of the same age, breed and weight.
Though some aspects of the collar are more fun -- like the option to share photos with friends -- Jacobs stressed that Whistle is a health-driven product. He always has been a dog lover -- most days there are six dogs hanging out at the office -- and his interest in learning more about everyday pet behavior stems from his own unexpected loss of a pet. When Jacobs was 8, his German shepherd unexpectedly died from an intestinal problem the family didn't know about.
"Just really wanting to know the information to take care of my pets was really the core inspiration for the company," said Jacobs. "The idea was that there must be a better way to take care of our animals."
With that goal in mind, the company has actively worked with veterinary experts while developing its collar. The goal is for dog owners to have more detailed information they wouldn't otherwise be able to get so they can have a leg up on preventative care.
Whistle has raised $6 million in seed funding and Jacobs said many more health-centered pet products are planned. Additional advancements might include nutrition-based tools to help determine if a dog is eating enough, or too much. And despite the company's name, Whistle is not stopping at dogs.
"We're starting with dogs, but we understand how important cats are as well," Jacobs said.