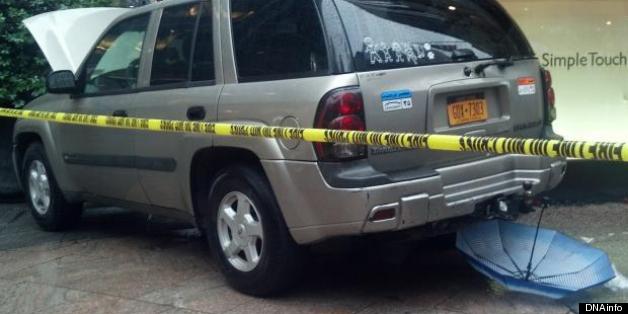 By Bryan Graham
MIDTOWN — A baby in a stroller being pushed down Fifth Avenue Friday evening was struck by a minivan after the driver jumped a curb, fire officials and witnesses said.
Six people, including the baby, were injured after a Chevy Trailblazer wreaked havoc in Midtown about 5 p.m. when it jumped the curb on the south-east corner of Fifth Avenue and 46th Street, authorities and witnesses said.
The victims were taken to Bellevue and Cornell Hospitals, fire officials said. The child was listed in criticial condition, while the other five victims were treated for non-life-threatening injuries.
Authorities said no other information, including the identity of the driver, was immediately available.
Real estate worker Ronald Rivas said he was on the other side of Fifth Avenue when he heard the crash.
He said he ran across the street to help the victims and saw a bent stroller on the street. The baby was crying hysterically from inside.
He said he worked with another couple to safely free the child, who then was taken inside the nearby Barnes & Noble by his parents to wait for the ambulance.
"It was a miracle no one died," Rivas said.