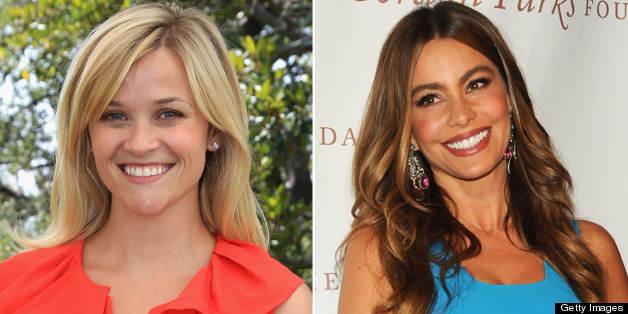 In what sounds like a match made in Hollywood casting heaven, Reese Witherspoon and Sofia Vergara are set to team up on the just-announced comedy "Don't Mess With Texas."
Deadline.com reports that the two funny ladies will portray a cop and a prisoner on the run from the law. There's no word yet on which actress will portray which character -- will Vergara's dominating presence lend itself to the cop role, or will Witherspoon play mother hen to Vergara's presumably silly prisoner character?
The movie finds Witherspoon returning to her Southern roots, as the actress was born in New Orleans and led the charge in 2002's popular "Sweet Home Alabama." While Vergara has expanded her résumé with movie roles in recent years, this could become her most high-profile effort to date.
Universal Pictures acquired "Texas" in what Deadline calls a "spirited bidding battle." With Vergara slated to co-produce, the film is reportedly on track to begin production in March 2014. Veteran sitcom producers John Quaintance and David Feeney, who together were behind the short-lived but well-liked Fox series "Ben & Kate," wrote the spec script.
Vergara will next star in "The Smurfs 2" and "Machete Kills," while Witherspoon will be seen in the thriller "Devil's Knot."
BEFORE YOU GO
PHOTO GALLERY
Celebrity News & Photos