Amy Adams may be one of the most beautiful and well-respected women in Hollywood, but the actress feels a bit out of place when it comes to being in the spotlight.
The "Man of Steel" star, 38, covers Interview magazine's June/July issue with co-star Henry Cavill and opens up about the perils of fame and how she's adjusted to her celebrity lifestyle. Adams, who comes from a family of seven kids, says she's still uncomfortable with her own success.
"I always saw myself as more of a watcher, although I suppose my siblings might have a different viewpoint on it. Actually, one of my least favorite things about being even remotely recognizable is that I'm not allowed to watch in the same way anymore," she tells the magazine, continuing, "You know, you try not to hide from the world because you want to still participate and still be inspired by what's around you. But I think that especially in the way that we're exposed today as actors -- and I'm not going to use the word celebrities, because I think there is a differentiation -- it makes it hard to be a voyeur and really pull from what's around you."
Adams has talked about her desire to keep her own daughter, 3-year-old Aviana, out of the public eye, considering she's still taken aback by all the attention herself.
"I think I closed myself in a little bit more because I started to feel really vulnerable being looked at or photographed. It makes me feel really weird," Adams admits, explaining that she struggled a bit following her 2005 Oscar nomination for "Junebug."
"I think what was hard about that -- and I feel this even now sometimes when I'm on the red carpet -- is that it's like I'm playing the role of a 'film actress.' I don't necessarily feel like myself, and that's a hard thing to come to peace with sometimes. It's like, 'Today, the role of 'Amy' will be played by this girl in a big dress.' [laughs] It's a strange sensation," the new Lois Lane adds. "It's not a bad thing -- and I'm certainly not complaining. It's just very different."
See Amy's stunning Interview cover below and see more photos here: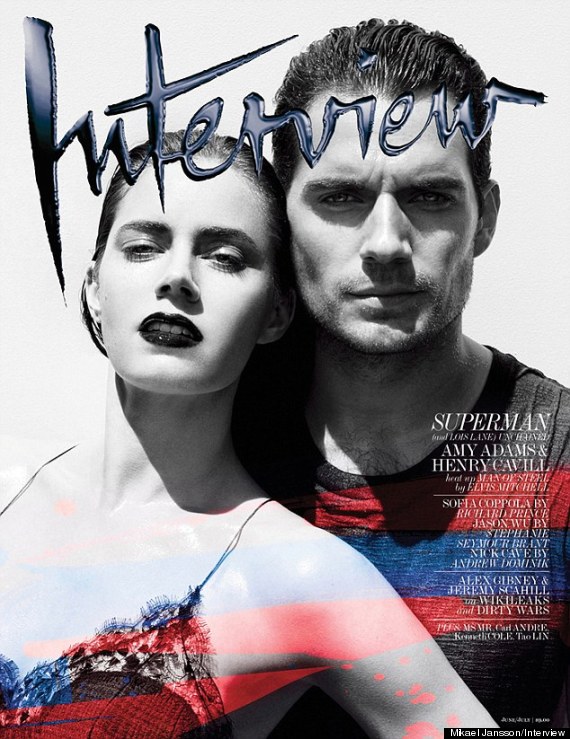 BEFORE YOU GO
PHOTO GALLERY
Celebrity News & Photos