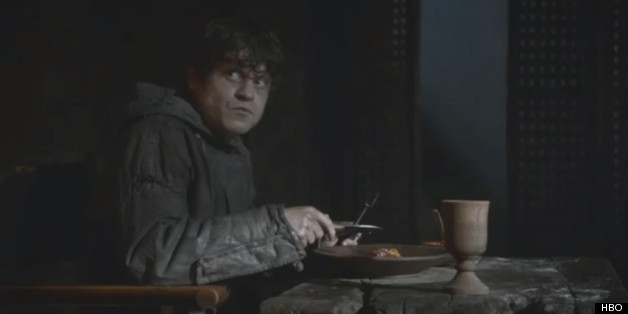 Note: Do not read on if you have not seen Season 3, Episode 10 of HBO's "Game of Thrones," titled "Mhysa."

Theon Greyjoy's tormentor was finally revealed on the Season 3 finale of "Game of Thrones": He is none other than Ramsay Snow, the bastard child of Roose Bolton, who revealed the mysterious torturer's identity to Walder Frey.
After Season 3 came to a close, Iwan Rheon, the former "Misfits" star who has played the unnamed character throughout the season, was finally able to speak out about his disturbing role, that "phantom c***" scene and keeping it all under lock and key.
"Everywhere you go people are trying to get it out of you," Rheon told Entertainment Weekly. "It's been quite funny, a lot of my mates were really into the show before [I was cast]. They've all come back and are like, 'you horrible little bastard' ... [Ramsay is] definitely one of the last people you'd want to meet on a dark street."
But some viewers were frustrated with the covert storyline. A couple weeks before the Season 3 finale, The Huffington Post's TV critic Maureen Ryan wrote, "You'd be hard-pressed to find someone who thinks this storyline has done any favors for the show or the fine actors involved (I'd been excited to see Iwan Rheon from 'Misfits' join 'GoT,' but I became progressively less excited the more this storyline went round and round in circles)."
"Game of Thrones" co-creator D.B. Weiss explained in HBO's behind-the-scenes look at the finale that the producers "really wanted the viewer to be in it with Theon and to not have any idea what was going on." He added, "We want people to be confused. We want people to be asking the questions that Theon is asking: 'Why is this happening?' 'Who are you and what do you want?' We wanted to push it to the point where it started to seem like, 'Why am I watching these terrible things happen to this person?' Because that's what it feels like to a person who's in that situation."
Though Rheon assured both EW and Vulture that he and Alfie Allen, who plays Theon, are "good mates" despite the aforementioned terrible things they film together, the actor did have some fun with that pork sausage scene in the finale.
"Of course, the scene in the finale was quite hard work, because I had to eat a lot of sausage. Lots and lots of sausages," Rheon told Vulture. "I'm basically eating sausage throughout the scene. He's supposed to be starving, and if you can imagine what a sausage can represent as well, to someone who's just been, um, eunuched. [Laughs] It's not very nice, but it's very fun to play."
For more from Rheon, click over to EW and Vulture. And for more on the Season 3 finale from the "Game of Thrones" producers, check out the video below.
PHOTO GALLERY
"Game Of Thrones"