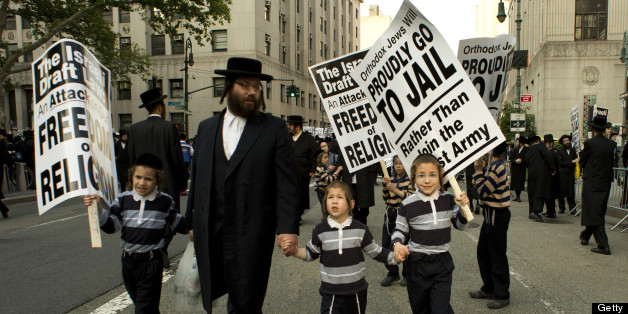 Tens of thousands of members of ultra-Orthodox Jewish communities Sunday flooded lower Manhattan's Foley Square to protest Israeli legislation that they believe would force yeshiva students to be drafted into the military.
An NYPD spokesman Sunday night said there were no arrests associated with the protest.
The event was calm and no violence erupted, said Jacob Kornbluh, an Orthodox Jewish blogger who also writes for various Orthodox news outlets, who was at the event.
"It was basically a protest against the Israel government's attempt to pass an IDF [Israel Defense Forces] draft bill, which calls for everyone to serve in the Army, even those students in yeshiva," said Kornbluh, 32, of Borough Park, Brooklyn. The protesters were siding with Israeli residents who "feel like they're being forced to drop the Torah, drop the learning -- which is not the intent" of the proposed legislation, Kornbluh said.
Demonstrators were mostly from two factions of Satmar Hasidim, an anti-Zionist sect within the ultra-Orthodox community, whose members are typically are at odds but came together on this issue, Kornbluh said.
Young men studying in yeshivas are currently exempt from military service in Israel. The draft legislation is set to go before the Knesset, Israel's parliament within weeks, though compromises are being sought. ___
BEFORE YOU GO
PHOTO GALLERY
IDF Draft Bill Protest In NYC